advertisements

Laughter is the best medicine in the world and here we give you the best medicine, some greatest car jokes in Malaysiaminilover.com. All these jokes are related to cars, some are created by our editors, and some are submitted by our readers, while some just come out from no where! Enjoy these jokes and write us any car jokes at malaysiaminilover at gmail[dot]com if you have one and wish to publish here.
Here is the list of Ford concept cars from A to Z. Ford concept cars are sexy, cool, and definitely good to give a glance although most of the cars did not go into production. Since 1938, automobile world became vivacious when world's first concept car was introduced. It doesn't matter whether concept cars really went into production because it gives people an imagination of how future cars are and how the future world will be. Automobile world will be dulled and colorless without these concept cars.
See the list of classics, antiques, and some really really old Ford cars before 1940s here if you are looking for old Ford cars for sale. As the oldest American car marquee, there are many Ford cars were built before and after World War, some of these cars were built in very special shape for World War while some are built for the people as transport during the 20s like the Ford Model T.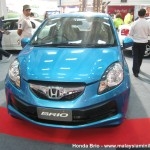 Honda Brio is a new member to Honda's family. It made its first debut in 2010 as 2011 model year. With the size of 3610 mm x 1680 mm x 1485 mm, it is the latest Honda cars to target on small car market. Currently, this car is famous in India and Thailand where these two countries has the Brio's premiere debut. Read the Honda Brio reviews here and also feedbacks from drivers who are presently driving Honda Brio in Thailand and India.
If one has thought about refinancing car loans into home loan, it has proven that he or she has pretty enough smart juice in the brains to look for loophole in our life. This is part 2 of 2. Click here to see part 1 and a successful case study 1.