Ford Mustang Cars
advertisements

You may easily find many Ford Mustang cars for sale in the market but not the first or second generation of Ford Mustang. The latest Ford Mustang are available almost everywhere, anyone who have the money can just walk into Ford dealers and book one instantly. In contrast, it is uneasy and it takes a lot of effort to find one classic Ford Mustang that is really in immaculate condition. Here in Malaysiaminilover.com there is one in original condition with all the original car parts for sale. Check it out.
The Ford Mustang is already an icon of American sports cars since the first model was introduced in 1964. The name Mustang is also one of the oldest nameplates in Ford's production. The main reason why Ford Mustang is so famous we can say is because Ford has chosen the right name for this car. Nobody wants a lame name on a cool and powerful car. Mustang, Mustang, Mustang, Must-Tang! See also: list of car names.
Alright, name is just one reason. Other reasons are the curve of the car and the engine that stay under the car hood. There is no other cars has the curve like the Ford Mustang. You can find another other cars that have the character in all Ford Mustang cars generations.
Generally, there are five generations of Ford Mustang:
First generation (1964–1973)
Second generation (1974–1978)
Third generation (1979–1993)
Fourth generation (1994–2004)
Fifth generation (2005–present): Ford Mustang, Ford Mustang GT, Ford Mustang 45th Anniversary Edition, Ford Shelby GT, Ford Shelby GT-H, Ford Shelby GT500.
Ford Mustang Logo
Mustang is an American feral horse, typically small and lightly built. Ford placed the name Mustang on this car and they use a running horse as the car logo. Click here to see more details about Ford Mustang Logo. You can also download some cool yet free Ford Mustang wallpaper here.
Ford Mustang for sale
This ad is written by one of our reader in Malaysia to us. Please note that Malaysiaminilover do not own this car.
Seller's note: 1965 American Ford Mustang V8 For sale. The car fitted with original 4.2 liter V8 289 Windsor engine cubic bore original from California, United States. All car parts and components in this car is still in original condition. This car has got no rust, condition is mint, well-kept since 1965 and it is certainly a collector item. Selling at RM98,000 (roughly US$32,500).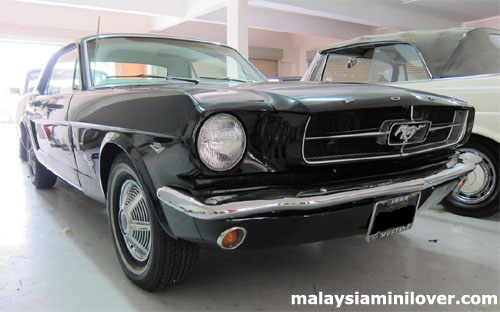 advertisements

If you love this article, please PLUS it!