Articles in the Kia Category
advertisements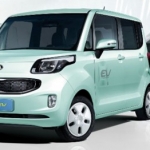 The Kia Ray EV has launched today in South Korea. The Kia Ray EV is the first 100% Korean made plug-in electric car that has the sound of petrol engine. The first EV car in Korea had give a promise to their customers that the car is able to travel up to 86 miles (139 km) on a single charge depending on the driving style. A normal charging time is six hours from normal 220V household electric plug. A fast-charge option is also available for the Kia Ray for whoever …
Kia &raquo
Well, personally I don't really like Kia cars although there are over millions of Kia fans across the world. It forced me to admit there is something special with Kia cars.
Kia (Kia Motors, 기아자동차 in Korean) is South Korea's second largest automaker and partly owned by South Korea's largest automobile manufacturer, the Hyundai Kia Automotive Group. Kia was founded in 1944 and being the oldest automaker in South Korea.
Is the Kia Spectra a good car? Here is your delicious A-list of good and bad points about Kia Spectra if you are planning to buy this car. The Spectra has fall into a small car group which you can't compare this car with some other car with bigger capacity. Here we will compare the Spectra with some other cars that fall into same group with the Spectra in terms of price, performance, as well as size.