Articles in the Mazda Category
advertisements

Here are the top 10 cool accessories for Mazda cars that are cheap to buy, easy to fix, and the car definitely looks good with all these cool car accessories. The top 10 list here are solely created by one of our editor and voted by over hundred members of Malaysiaminilover.com. It is exclusively dedicated for all Mazda cars owners. Enjoy and do share with us if you have any DIY accessories for Mazda!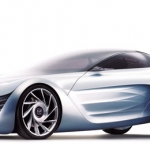 If Honda cars are like Elvis Presley in automobile world, Mazda cars will be Michael Jackson that has its own style with the well-known rotary technology in their engines just like Michael's moonwalk.
Mazda (Mazda Motor Corporation or マツダ株式会社 in Japanese, pronounce as Matsuda Kabushiki-gaisha), was founded by Jujiro Matsuda in 1920 in Hiroshima, Japan. It is one of the Japanese car makers that will never overlook by all car lovers. The company name "Matsuda" is derives from Jujiro Matsuda.