Articles in the Bugatti Category
advertisements

Bugatti Veyron, the world's fastest street legal car that beat all other cars at this time, is the dream car for every car lover, costing at least $1.2 million to own one. Due to this reasons, only few hundreds of Veyron have ever been built. Some countries have a few of it while some countries don't even stand the chance to see one. Now there is finally a replica Bugatti Veyron for sale at $89,000! That is even lesser than 1/10th of the original Veyron's price. This is one of …
As the current world's fastest car, Bugatti cars are highly regarded by all the drivers around the world. However, you will need to have a deep pocket to own Bugatti cars.
France-based Bugatti was originally founded a century ago in 1909 by an Italian-born eccentric genius Ettore Bugatti. For a century, this high-end car marquee is well-known for producing luxury sports cars.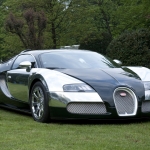 You can never get more fun to download these cool cars wallpaper including the Bugatti Veyron wallpaper. The wallpaper for Bugatti Veyron is free to download in high resolution including 1600 x 1200 or 1280 x 960. Alternatively it is optional to download these cool car wallpapers in other resolution like 1280 x 800 or 1024 x 768. Check it out!