Replica Bugatti Veyron for sale at $89000
advertisements

Bugatti Veyron, the world's fastest street legal car that beat all other cars at this time, is the dream car for every car lover, costing at least $1.2 million to own one. Due to this reasons, only few hundreds of Veyron have ever been built. Some countries have a few of it while some countries don't even stand the chance to see one. Now there is finally a replica Bugatti Veyron for sale at $89,000! That is even lesser than 1/10th of the original Veyron's price. This is one of a kind Veyron that you can find only one in the market today.
Mike Duff, a 25-year-old from Florida who did not have million dollars to buy the genuine Veyron but have billion dollars heart to build one with his own hand. The project has taken him a full nine months from head to toe. Starting with a 2002 Mercury Cougar two door sport coupe as the donor car, Mike Duff transforming the car's from inside out to Bugatti Veyron.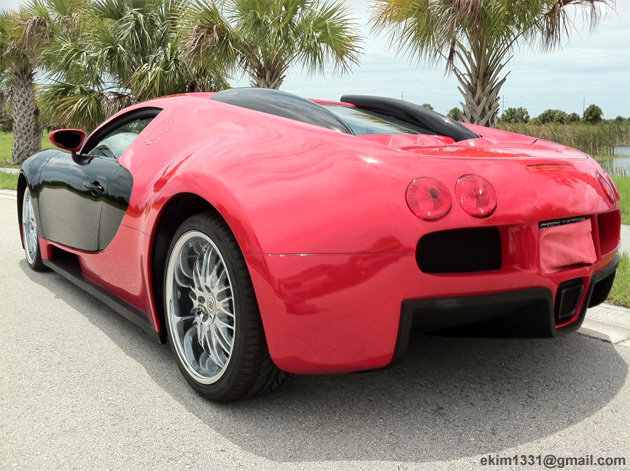 Duff uses composite and fiberglass to build the car body with one inch tubular steel frame welded to the car to create the sleek of the car. The car is painted with Ferrari red and black combo. Although it is 10 times cheaper than the genuine Bugatti Veyron, the performance isn't 10 times slower. The car is using the original Cougar's 2.5 L V6 engine which produces roughly 170 hp. Compared to the original Bugatti engine, which using 8 L 16-cylinder engine that produces nearly 1000 hp, off course is a big contrast. The original engine's heat could heat up a village during winter. This may spark your interest about cars: world's fastest car, fastest street legal car, world's fastest production car, exotic replica cars.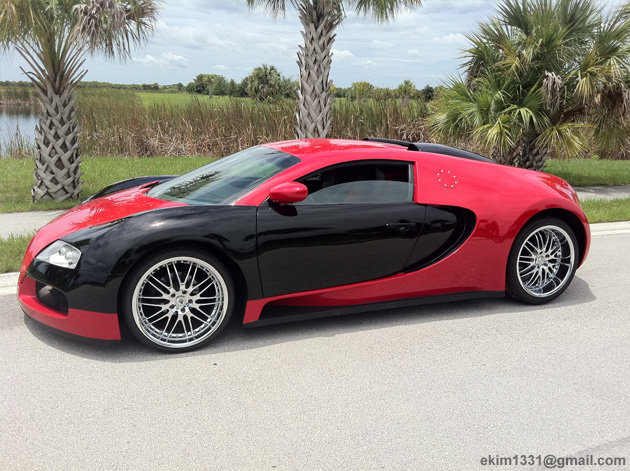 A set of 20" custom wheels is installed to the car to make it look cool. Interior of the car has everything of what a car need, power windows, power locks, gauges, AC controls, but fitted with fancy aluminum trim parts like the original Veyron. Car seats are not fake and it is covered in real leather with leather trim on the carpet and leather dashboard.
Although the performance is nothing compared to the real Bugatti Veyron, the $89,000 is what you pay for the outlook and the effort to build this car. Whatever, it is the cheapest Bugati Veyron for sale ever!
advertisements

If you love this article, please PLUS it!