advertisements

View the top 10 best subcompact cars that are best value for money. These subcompact cars are selling relatively cheap, with good fuel economy and safety features, easy to drive, and with high ratings from many car tests. Subcompact cars were first famous in Japan and Europe and later on in America and other countries. The main reason it gains popularity is the size of the car and it has good fuel economy. Subcompact car length usually not exceeding 165 inches or 419.1 cm.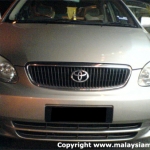 What are the five best compact car models available for sales in the market today? Compact cars are always the best as the size of the car isn't too small for highway and isn't too big for city use, especially side parking. Besides, compact cars are cheap to purchase and it is usually around $20,000 dollars. Car insurance, car loan, and car maintenanceare also cheap for cars under $20,000 dollars. Now check out these compact car models with highest ratings from many professionals and readers from Malaysiaminilover.com. We rank these cars …
How much does Honda Civic hybrid battery replacement cost? Honda Civic Hybrid has been one of the top choices for hybrid cars since it was introduced. Many people chase after this car due to its quality and high ratings from many car reviews professionals. The true cost to own a car or the calculation of average annual cost of a car is different for hybrid cars, where the battery replacement cost must also be included in the calculation.
There are ways to get free family car decals. We give away free family car decals, family stickers for car, and family of characters car decals as long as you submit an article related to cars to us at Malaysiaminilover.com. Alternatively, you can buy these car decals at real cheap price. You can even customize your own car by making your own family car stickers.
Bugatti Veyron, the world's fastest street legal car that beat all other cars at this time, is the dream car for every car lover, costing at least $1.2 million to own one. Due to this reasons, only few hundreds of Veyron have ever been built. Some countries have a few of it while some countries don't even stand the chance to see one. Now there is finally a replica Bugatti Veyron for sale at $89,000! That is even lesser than 1/10th of the original Veyron's price. This is one of …