Honda Brio
advertisements

Honda Brio is a new member to Honda's family. It made its first debut in 2010 as 2011 model year. With the size of 3610 mm x 1680 mm x 1485 mm, it is the latest Honda cars to target on small car market. Currently, this car is famous in India and Thailand where these two countries has the Brio's premiere debut. Read the Honda Brio reviews here and also feedbacks from drivers who are presently driving Honda Brio in Thailand and India.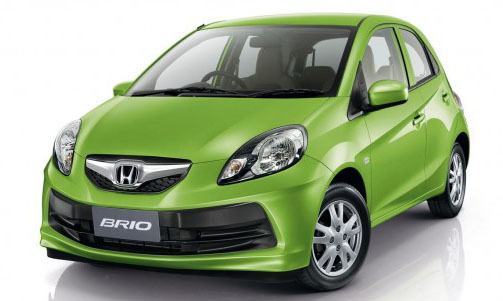 The Brio is powered by an i-VTEC four-cylinder 16-valve SOHC engine with 90 and 110 Nm. The engine capacity is 1,198 cc which Honda aims to make it the car with the highest fuel economy rating in the coming years. The Brio is available in 5 different colors including Fresh Lime Metallic (GY-27M), Taffeta White (NH-578), Cerulean Blue Metallic (BG-53M), Alabaster Silver Metallic (NH-700M), and Crystal Black Pearl (NH-731P).
In Thailand, there are three models available:
Honda Brio S MT – Selling price: 399,900 baht (Roughly US$13,370). Manual transmission, comes with steel wheels and not sport wheels, and do not have CD player. The place where the CD player should be located will be cover by a piece of black plastic. Front and rear bumper and door handle are in black color and do not follow the body color, that's the most awkward thing for the S MT options. Imagine that you get a white Brio or Blue Brio with black bumper, how ugly it is. Indirectly, they forced buyer to purchase the V options if they do not prefer black color. Otherwise, buyer will have to pay extra cost to spray the bumpers.
Honda Brio V MT – Selling price: 469,500 baht (Roughly US$15,650). Manual transmission, everything is good. It comes with sport wheels and a nice double din CD player.
Honda Brio V AT – Selling price: 508,500 baht (Roughly US$16,950). Everything is same with the V MT options except it is automatic transmission.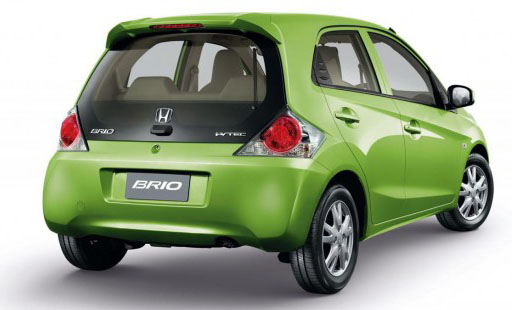 What is good for Honda Brio: Good visibility and driving position especially rear view. The rear mirror is very big and driver is able to see the car follow at the back clearly. Airbags, ABS, and EBD are available for all model range. Affordable price; Inside of the car is roomy and not cramped. Rear seats are able to fit people shorter or around 175cm height. Nice CD player for Specs V with auxiliary port ready for iPhone, iPod, or any smart phone. Car insurance, car loan, and road tax is cheap for this car.
What isn't so good for Honda Brio: Hard plastic interior; Small trunk. Optional to push the rear seat down to expand the trunk size, if so, what is the point of having a 5-seater car? No power window for Spec S. The rear window size may make passenger feel unsafe.
Honda Brio's competitor or similar car: Nissan March/Nissan Micra (it is one of the best selling cars in Thailand), Mazda2, and Toyota Yaris.
Honda Brio Pictures

2011 Honda Brio. Pictures updated. Please be back to see some of the reviews from real life drivers who are driving the 2011 and 2012 Honda Brio.
advertisements

If you love this article, please PLUS it!