Articles tagged with: limited edition
advertisements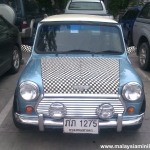 A Mini checkmate was spotted in a parking lot today. It is not the 2006 Mini Cooper S Checkmate but it is the classic Mini Cooper customized with checkmate hood and side mirror. Rather than 17-inch "flame spoke" alloy wheels, this Mini checkmate is running on the standard 12" x 5" Minilite painted in black color.
The checkmate package includes black and white design on the car hood, side mirror, and paired with black wheel arches. Front is using MK1 bumper with over rider and two huge stainless steel spotlights is …
1999 Mini 40 LE Island Blue
The Mini 40 was built in 1999 to celebrate the 40th anniversary for this little car. Only 250 units were built for the UK market in Island Blue, Mulberry Red, Old English White, and Tahiti Blue Metallic. This is the Island Blue Mini 40 LE which is an extremely rare car to find in the market today. It features Mini 40 decals, chrome "GB" on the boot, four spotlights, body-color matched leather seats, alloy dashboard and a luxury interior. The car is definitely a nice addition to …
This immaculate 1995 Mini Tartan a.k.a Mini Sidewalk is belong to a member of Malaysiaminilover. He, who is a kind man, is sharing some of the private bikini photos of this car to our portal. Mini Tartan is one of the most dazzle MK6 Minis. It was launched in June 1995 and the production is limited to only 1,000 units for the UK market. In Japan, Tartan is an unfamiliar name for Mini collectors. Japanese are more familiar to the name "Sidewalk" which refer to the same car.
Mini Tartan is …