How to upholster car seats
advertisements


How to upholster car seats so that the trashy car seats will look brand new and comfortable to sit? Upholster car seats meaning to replace the fabric, leather, or PVC (Polyvinyl chloride) on the seats when the seat has become old or when you want to customize a car, rebuild or refurbish any classic cars or make your vehicle as any cool pimped out cars. This looks like a hard job to do, but as long as you learn it, you can DIY easily and it could be easier than learning to drive a car.
5 easy steps for those who do not even know where to begin, where to start, and for those who do not have any clue on how to upholster a car seat, regardless of it is a project car, a classic car, a golf car, a truck, or a Western Hauler.
Step 1 – Remove the car seat is your first step
Work will get easier once the seat has been out from the car and placed on floor. Different seat require different removal tools and method, the most standard tools will be an adjustable spanner. Just remove the bolts underneath and the seat will come out. Trust me, this work is easier than to sort out why a car engine won't start.
Step 2 – Remove the fabric off the seat frame
The fabric that sewed to the seat frame is almost like a pillow case which hog ringed at the bottom. On the other hand, the lower section is usually like a cap that is hog ringed to the frame of the seat. Write down everything before you remove it so that you can easily upholster back the same way as it is. A digital camera to take down everything before you remove the fabric is a good way to record down everything.
Step 3 – Choose your desire fabric or pattern
Go to any fabric shop and choose your fabric according to the material and the design you want. Various of choices available such as the Velvet or Tartan design, these will make your car seats looks great like any tricked out cars.
Step 4 – Cut your new fabric
Cut your new material according to your old material size. Size must be the same but you can mix the color of each shape to make a 2-tone seats or 3-tone seats. Will this make the car like a Lamborghini Limo? Well, creativity and preference still up to you.
Step 5 – Wear the new cloth to your seat
Help you seat to wear a new cloth by applying the new fabric to the seat frame. The progress could be fastened where some people just staple the base. Alternatively, you can add new polyfoam to the seat to make it more comfortable to sit. Some of the project cars for sale in the market do have a good upholster seat for the interior.
There you go for your brand new look car seat. Isn't it is easier than to sort out car CD player eject problems or learning to drive a manual transmission car? On the other hand, the car seat can always be more customize by adding some car accessories. For example, Scooby Doo car accessories. The available head rest covers, car seat covers or the floor mats to make the car seat look more unique for any car even it is cars under 500 dollars.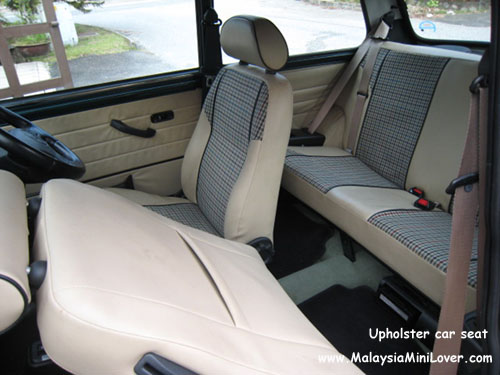 advertisements

If you love this article, please PLUS it!