VW kit cars
advertisements

Here is your delicious A-list of VW kit cars and where to buy these kit cars with cheap price. VW also know as Volkswagen which means "people's car" in German was originally founded in 1937 in Germany. Over the years, VW manufactured a lot of famous cars such as special bug shape Volkswagen Beetle and the famous exotic sports car Porsche 918 Spyder which appear at the Geneva auto show lately.
Most of the kit cars available for VW in the market today are base on the VW Beetle while only some is base on other's VW model like VW pan. The reason is because the classic Beetle is having very special shape that could turn into any cool cars like the Kubelwagen, Streetrod, Meyers Manxter, and even the Porsche 550 Spyder. Well, the magic is still on the kit that manufactured by some of the kit cars builder.
VW based kit cars
Here is the list of VW based kit cars available in the market.
VW Beetle 2 seat convertible kit set
VW Beetle kit cars
VW Beetle sedan conversion kits
VW convertibles kit cars
VW Pickups
VW coupes

VW Kubelwagen kits

VW Streetrod

VW Based Camaro replica/buggy

Meyers Manxter using VW chassis

Porsche 550 Spyder (This is one of the most famous VW kit cars)
Open roof VW beetle (buggy style)
1978 VW Bradley GT (built on a 1966 VW Chassis)
Where to find VW kit cars?
Here is some of the list where you can find VW kit cars for sale.
United States (US)
California
AVG Engineering
P.O. Box 493
Orland, CA 95963
(530) 865-7413
www.avgeng.com
Builds the P-40 Nitro Express trike kit with VW engine
Glockler Spyders
217 East Alvarado St
Fallbrook, CA 92028
(760) 728-9615
www.kitcarlist.com/glockler
Glockler 550 Spyder for unmodified '58-74 VW, Turnkeys start at $11,500
Mendeola Signature Motors
7005 Camino Maquiladora
San Diego, CA 92154
(619) 710-4946
www.mendeolamotors.com
Authorized Meyers Manxter builder & vendor based on VW and custom chassis
Meyers Manx
P.O. Box 1491
Valley Center, CA 92082
(760) 749-6321
www.meyersmanx.com
Creators of the original '60s Meyers Manx dune buggy, now producing the
VW-based Manxter 2+2 buggy, bare bones kit $5,395, std. Kit–$7,500 and
Manxter DualSport, bare bones kit $9,975, std. kit $19,500
Stuttgart Spyders
6801 N. Paramount Blvd.
Long Beach, CA 90805
(562) 232-7082
www.stuttgartspyders.com
Manufacturers the "James Dean" 550 Spyder redesigned to today's standards.
VW donor full mandrel bent tubular chassis & factory style wiring harness.
Vintage Spyders, LLC
735 N. Cypress St.
Orange, CA 92867
(714) 538-6550
www.vintagespyders.com
Manufactures Porsche 550 Spyder for VW or Subaru power on tube chassis
VW Streetrod
6682 Magnolia Avenue
Riverside, California 92506
(951) 788-9954
(951) 235-9591
www.vwstreetrod.com
Kits start at $1,995; Complete kit with dropped tube axle $4,590
Colorado
Zipper Spyders
2146 Hwy 6 & 50
Grand Junction, CO 81505
(970) 201-7351
www.zipperspyders.com
Manufactures a stylized Porsche 550 Spyder with a tubular space frame utilizing VW and Porsche components or the Cobalt/Saturn Ecotec engine.
South Dakota
M.E.K.K. Autoworks, Inc.
31019 475th Ave.
Alcester, SD 57001
(605) 253-2355
www.mekk.biz
www.kitcarframes.com
Manufactures replacement frame for VW beetle based kit car bodies using
Dodge Neon engine, transaxle, suspension in a rear/mid-engine arrangement with a VW front suspension.
Washington
Wombat Car Company
10013 NE Hazel Dell Ave., #147
Vancouver, 98685
(360) 335-8215
www.wombatcar.com
Manufactures Wombat for VW, kit is $5,850; turnkeys start at $17,000
Wisconsin
B.G.W. Spectre, Ltd
3344 Mariner Circle
Phelps, WI 54554
(715) 545-2132
www.bgwspectre.com
VW Beetle sedan conversion to convertibles, pickups and coupes
Canada
Customotive
2225 Francis St.
Vernon, British Columbia V1B 3B4
Canada
(250) 549-3535
www.customotive.com
Eurosport VW Beetle 2 seat convertible, complete kits start at $3,100
Intermeccanica International Inc.
150 E. First Ave.
Vancouver, BC, Canada V5T 1A4
(604) 872-4747
www.intermeccanica.com
Manufactures Porsche and WWII VW Kubelwagen kits and turnkeys.
Kubelwagen kit—$16,450; Porsche 356 Roadster GS kit—$20,750;
Porsche 356 Roadster RS kit $18,750; Porsche 356 Speedster kit $18,750
United Kingdom (UK)
Doon Buggies
West Midlands
United Kingdom
+ 01384 859872
www.doon.co.uk
Manufactures right hand drive buggies for VW beetle
Brazil
HotSnake
Botucatu, 17 Street
São Caetano do Sul, São Paulo 09550-060
Brazil
55 11 4227-1703
www.hotsnake.com.br
Manufacturers a VW trike with steel tubular chassis and fiberglass body.
New Mexico
Kooble Kar
11207 Acoma SE
Albuquerque, NM 87123
(505) 292-5614
www.kooblekar.com
Manufactures VW Bug-based Kommando Kar, Kountry Kar and Kooble T-82R
kits and turnkeys, Kommando Kar: kit–$4,250; turnkey–$5,400,
Kountry Kar: kit $5,700; turnkey $7,700,
Kooble T-82R: kit $3,200; turnkey starting at $12,500
See more at: Cobra kit cars, Lamborghini kit cars, Electric car conversion kit.
In conclusion, kit car is where you can buy a set of parts from the manufacturer or the kit cars builder and then assembles the car by yourself. That is how to build special VW kit cars.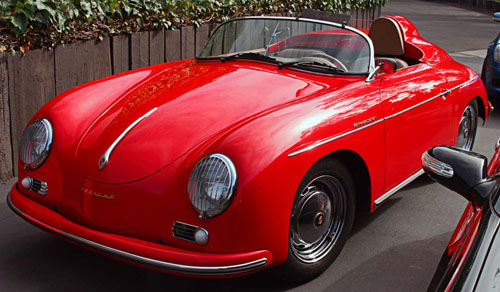 advertisements

If you love this article, please PLUS it!