Top 10 concept cars at Paris Auto Show
advertisements

Just like past years, the Paris Auto Show this year rock again the automobile world with even more cool cars. Let's check out the top 10 concept cars at Paris Auto Show this year. This time, you can see any kind of concept cars in any kind of shapes and sizes. Some are with super duper futuristic design while some are just like pimped retro cars.
Audi Quattro Concept
The new Quattro concept really looks like it is ready to go rallying. Audi maintained the Quattro's look as fierce as it was in 1984 when it was a star of the racing world. The chassis of the new Quattro uses lightweight aluminum and fitted with a 400 bhp 2.5 liter engine which borrowed from the Audi TT RS.
Jaguar C-X75
It seems automaker is getting crazier and crazier in building high quality and excellent performance car. Look at the Jaguar C-X75 which powered by micro-turbine technology. An electric powertrain is amped up by two gas micro-tubine and this supercar produces 780 bhp, which achieve 0 – 62 mph in just 3.4 seconds.
Lamborghini Sesto Elemento
We couldn't miss our eye on Lamborghini at the Paris Auto Show because it is too stunning and dazzling. This ultra-lightweight sports car employs a "forged composite" to its central tub. The car look layered with carbon fiber. According to Lamborghini officials, the chassis tub is complete in just eight minutes, that's even faster than making a cooked egg!
BMW 6 Series Concept
As a leader in luxury cars, BMW places the 6 Series Concept to make the Auto Show livelier.
KIA Pop
Everyone does feel "Pop" when looking at this car. Although the KIA Pop electric cars still need some journey to become a perfect electric cars, but we still enjoy to see it especially the way to door open.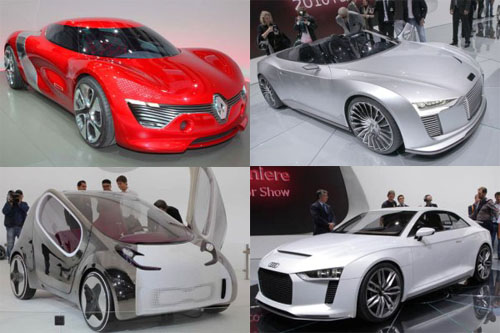 Audi eTron Spyder Concept
The eTron Spyder concept in the Paris Auto Show just like Tom Cruise appears in Grammy Awards, charming and attractive. The eTron Spyder is a open-top coupe with a cut-down windscreen. Fitted with a hybrid engine that propels this car from 0 to 62 mph in just 4.4 seconds, very good for a hybrid isn't?
Renault DeZir Concept
Do you remember about 20 years the Mazda cars that used by Kamen Rider Black to defeat his enemy? If Kamen Rider Black wants to change a new car, the DeZir Concept should be one of his choices. The DeZir designed by Lauren van der Acker. It is an electric sports car that achieves 0 – 62 mph in about 5 seconds. There is only one word to describe the car, COOL!
Exagon Furtive-eGT
Here we stand a chance to see a new French-built sports car, the Exagon Furtive-eGT. A sports car powered by lithium-ion batteries, yes it is the battery like the one you having in your mobile phone but with bigger capacity. The car has less than 250 miles each time it gets full charged. However, the car achieves 0 – 62 mph 3.2 seconds and has a top speed of 178 mph, which is pretty impressive among all concept cars at Paris Auto Show.
advertisements

If you love this article, please PLUS it!