advertisements

Simpang Ampat, Penang: In conjunction with EcoWorld Gallery @ Eco Meadows "Drive Into a New Year" event, there are 9 Classic Mini Cooper, a few BMW MINI Cooper, and a few classic Volkswagen Beetle flood the EcoWorld Gallery. This is one of the most creative car shows ever in Penang. From London Taxi to Pac Man to Muscle Man, each Mini Cooper wear a different makeup. All these cars look so cute and so lively.
The event takes place at EcoWorld Gallery @ Eco Meadows from January 24th to February 29th, …
Whenever I drive my classic Mini Cooper out, people will look at my car. No doubt it is an attractive car due to the iconic look and shining metallic paint. Sometimes, you will hear kids screaming "Look! That's Mr. Bean's car!" In fact, I am not Mr. Bean.
As a Mini lover, I own both the BMW MINI Cooper as well as a 1994 Mini Cooper. Many people do not know that the production of classic Mini Cooper actually last until 2000. People often think that the classic Mini was built …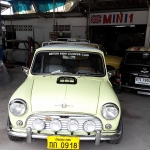 This is a Morris Mini Cooper MK1. It is a rare classic Mini Cooper from Mini MK1 generation as the production is very limited between 1959 and 1968. Furthermore, this is left-hand drive MK1 Morris Mini Cooper from Laos, a Southeast Asian country. The owner of the car didn't keep it as original as it is. It has been modified. However, other than the front 4 spotlights, chrome side mirror, two front clear-type signal lenses and an air vent on the car hood, the rest are very much original.
Finished in pale …
Whether it is a classic Mini or a modern supercar, it requires not just money but effort and ideas to create a truly beautiful interior. Here we have 10 car interior photos of a customized Austin Mini Cooper. Every part of the interior is crafted nicely. High quality leather, shining walnut dashboard, new carpet and more. If you are rebuilding your classic Mini and looking for ideas to craft your car interior, these photos might be very helpful.
From car engine to interior to cockpit, there are a lot of things …
In January 1989, Mini launched one of their limited edition Minis – the Mini Sky. Mini Sky is based on Mini City and the production is only limited to 500 cars. Many of them are not surviving today thus not many people (include Mini fans) know about the existence of Mini Sky. Today, MalaysiaMiniLover is going to re-introduce the Mini Sky. It is a must to bring it back to life because the design is unique and the chances to see them in any Mini Cooper Gathering is close to …