advertisements

As a car lover, these classic cars really attract my eyes. I was in a shopping mall this evening and I saw a bunch of classic cars that shine bright like a diamond in front of me. Without doubt, I took a few photos because they deserve to be shared to the internet, Instagram, Pinterest, Facebook and any car related websites. Here is a Rolls-Royce Silver Spirit in immaculate condition. Sitting next beside to it is a Jaguar XK 140.
Next to the Jaguar is a gold color Mercedes-Benz W111. W111 was built by …
A 2016 Mini Cooper hardtop weighs in between 2,605 lbs and 2,985 lbs, ranging from the basic Mini Cooper to the high performance Mini John Cooper Works. Somehow, there are 5 persons carry the car without using any hydraulic jack. Yes! As you can see from the photo below, they carry without anything. It shows how vital it is to understand how much does my car weigh.
Alright, this is just a promotion done by a Mini branch located in Kuala Lumpur. The entire car is built up with carbon fiber and it didn't …
A reader of MalaysiaMiniLover sent us a few photos of a red hot Mini Moke. This Mini Moke looks very spicy because of the chilli red exterior. Far away, you can clearly see the car is fitted with 13 x 7 minilite sport wheels. It makes the car looks bigger and feel more stable on the ground. According to the owner, doing a complete colour change cost him a lot. It is also very time-consuming and a real hassle to rebuild the whole car.
Mini Moke was built in between 1964 …
Here's a genuine 1979 Mini Pickup. This is a MK4 Mini Pickup. The exterior is almost similar to MK3/MKIII Mini but there are a few parts under the hood were upgraded. The first Mini Pick-up were introduced in 1961 under the production of Austin Seven Pick-up. The car utilized the same floor pan as the Austin Se7en and Morris Minivan but had a flat loading bay and self-contained cabin. The drop-down tailgate at the rear of the load bay is what makes this car a unique one in Mini Timeline …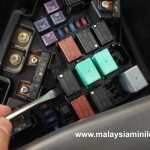 I am writing this article to share the experience I had with my 2006 Honda Civic air conditioning problems. I sorted the root problem based on every symptoms the car gives and hunt for the best solutions. Honda Civic owners who face different kind of air conditioning problems should go through this article. I strongly believe that this article could save you hundreds of unwanted repair cost from untruthful dealers or mechanic.
Last week, I was driving my Honda Civic from Northern Thailand to Southern Thailand, out of sudden, the car …