Madonna American Life Mini Cooper S
advertisements

Madonna, one of the best female rock star, rock in a Mini Cooper S. In year 2003, "MADONNA American Life Mini Cooper" die-cast model were produced. These die-cast models come in Red and Black. This is a very rare Mini Cooper S die-cast model that only available in UK, each of the die-cast bears the American Life roof image which with Madonna's image on it. Besides, each of the cars has been numbered with license plate individually and come with a numbered Limited Edition certificate.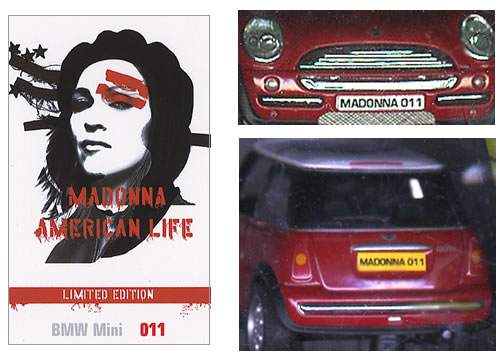 The producer only produce 24 Red Mini Cooper and these were exclusively distributed to selected VIP only. Well, you may try your luck to search it at eBay 🙂
On the other hand, the Black Mini Cooper which known as Launch Party Edition are distributed to guest at Madonna's album playback party in London. Again, this is also limited edition Mini Cooper die-cast model. There is only total of 506 Black Mini Cooper were produced, but some of Madonna's fan claims that they get the black Mini Cooper with number 603 in the license plate, possible certain numbers were not manufactured or missing?
Madonna is known as an American pop singer has made some British collection in her life, a Mini Cooper S. The Mini Cooper S of hers is in electric blue color that equipped with GPS system. This car also comes with leather multifunction steering wheel with cruise and audio control panels. Besides, this American pop stars chooses a dual-pane panoramic power sunroof.
An additional British collection in Madonna's life is her British husband, Guy Ritchie who is a film director. Madonna married to him back in year 2000 and they have 2 sons.
Madonna has been dubbed "Queen of Pop" by some magazine companies and media companies. She has made a great achievement in music and dancing life and has been regarded as one of the greatest pop singer all the time. Madonna also been ranked as the best female rock star. 
advertisements

If you love this article, please PLUS it!