Lamborghini Countach
advertisements

Lamborghini Countach is a super sports car produced by Lamborghini (Italian automaker) from 1974 to 1990. Pictures and information of Lamborghini Countach appear in movies and TV series is available here. The word Countach (in Italian, Piemonte local language) pronounce as "kun'tach" or "Koon-tuck" is generally refer to when a man seeing hot car girls, pretty car girls, or sweet car girls. The Countach is an early sports car which comes before the Lamborghini Murcielago or even the Lamborghini Diablo.
The appearance of

Lamborghini Countach
The Countach appear to be super exotic sports cars ever since it's first launch in 1974. The exotic styling, top performance engine, and uncompromising character make the Countach incompatible status in super cars history. It was designed by Marcello Gandini and built by Bertone.
The wedge-shape design combined with sharp edges and the special Countach trademark, the "scissors" fashion door. The door was build with the hinged at the font to make it able to slanted forwards.
The design has come with NACA ducts and square pop-up headlamps which make the car looked futuristic. The car stands at 42.1 inches in the height and the low design of the Countach make it eye-catching than any other cars in the world.
Performance
The car powered by a traditional Lamborghini V12 engine
Mounted longitudinally with mid-engined configuration where the engine is place between rear and front axles.
Lamborghini Countach models
LP400 (1974-1978)


There are about 157 Lamborghini Countach was made during 1974 to 1978. In 1974, there were only 23 Countach were made. In 1975 were 60, 1976 were 27 and last 40 Countach LP400 were made in 1977. Same as the LP500, it comes with V12 engine, longitudinal, mid-mounted. But the LP400 capacity is slightly lower which is 3,929cc and the maximum output power is 375bhp @ 8,000rpm. The torque is 266 ft/lbs @ 5,500rpm. The top speed for LP400 can go up to 290 km/h (179.8 mph)
LP400S (1978 – 1982)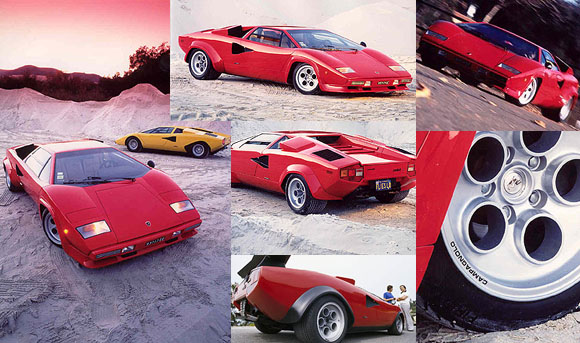 A total number of 237 LP400S Countach was made from 1978 – 1982. The LP400S is having 3 distinct series. Series One, the first 50 cars delivered with Campagnolo "Bravo" wheels in 1987 and 1979. Series Two, the cars are recognized by the smooth finish dished/concave wheels, total number of 105 Countach LP400S series two was built. Series Three, the LP400S chassis number is claimed from 1121312 onwards, 82 cars were build.
LP500S (Sometimes it refers as LP5000S) (1982 – 1985)



The Countach model comes with V12 engine, longitudinal, mid-mounted. Capacity of 4,754 – 4,971cc with 6 Twin-throat Webers 45 DCOE 96/97. Maximum power of the car goes up to 440 bhp @ 7400rpm and Torque at 366 ft/lbs @ 5,000rpm. The top speed for LP500 can go up to 294 km/h (182.3 mph). The original price for this car is around US$85,000 and 321 cars were made through the years.
LP5000QV (1985 – 1988)


610 cars were made through 3 years of the production. The Countach LP5000QV brought 4 valve heads. A bigger capacity has added to this model which is 5,167cc produce 420bhp and performs a top speed of 279 km/h (173 mph).
Anniversario Countach (25th Anniversary Countach)


This car was launched in September 1988 and the production stopped at April 1990. It is to celebrate Lamborghini's 25th Anniversary as an automaker. It is known as the most desirable version of the Countach. This time a 5,167cc engine was fitted to the car that produces 425 bhp. The top speed of the car goes up to 295.6 km/h (183.3 mph).
Lamborghini Countach in movie



Lamborghini Countach LP400 – Che dottoressa ragazzi (1976), Mr. Billion (1977), Condorman (1981), The Adventures of Ford Fairlane (1990),
Lamborghini Countach LP400S – The Cannonball Run (1981), Smokey and the Bandit Part 3 (1983), Automan (1983 – 1984)
Lamborghini Countach LP5000S – Cannonball Run II (1984), Miami Vice (1984-1989), Rocky IV (1985), Year of the Dragon (1985), Police des moeurs (1987), Rain Man (1988), Speed Zone! (1989),
Lamborghini CountachLP5000QV – King Kong Lives (1986), The Hidden (1987), Dark Angel (1990), Max Monroe (1990), Doberman (1997), Cause of Death (2000),
Lamborghini Anniversario Countach – Lei Ting Zhan Jing (2000), Quatre étoiles (2006).
The striking appearance and extreme performance has made the Countach as an outrageous result in super cars and exotic cars industry. 16 years of production in various series has made the Lamborghini Countach a legend.
advertisements

If you love this article, please PLUS it!