Driving a Malaysian?? Car to Vietnam?? via Laos?? and Thailand??
advertisements

Driving a Malaysian?? car to Vietnam?? via Thailand?? Cambodia?? and Laos?? has always been my dream. While I was planning my trip, I realised there is not much of information available online. I believed there are many Malaysian or Singaporean motorist would like to do this too. So I hope this article will be useful for anyone who love overland journey in ASEAN countries.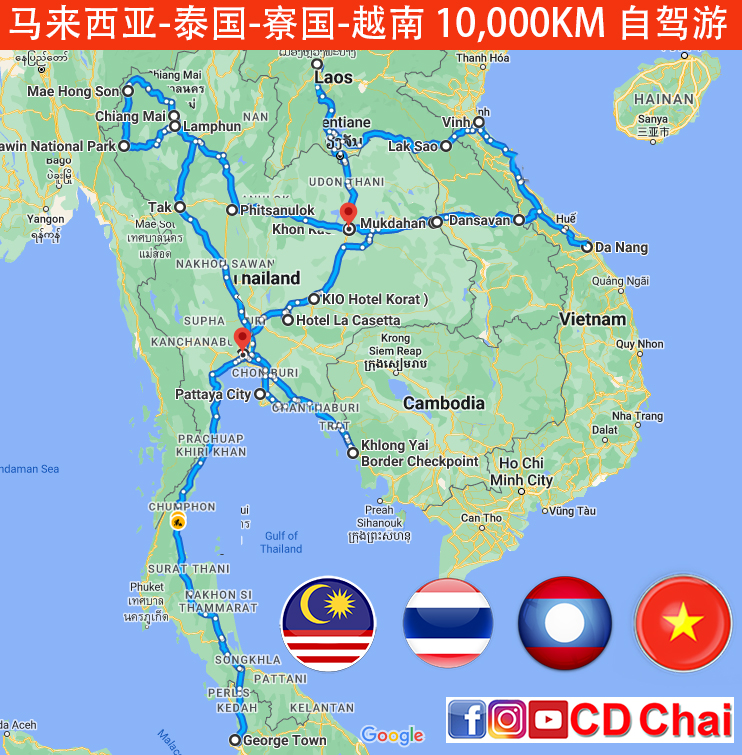 I started my journey in February 2023, using a 23-year-old JDM Toyota Altezza with 1JZ-GTE vvti engine. It's all started from Georgetown, Penang. The first border crossing was done at Bukit Kayu Hitam-Sadao, it was smooth and easy because Songkhla province in Thailand has get used to deal with Malaysian car. I drove all the way up to Bangkok, Pattaya and then went to a border between Thailand and Cambodia, this is where my dream was broken. I was rejected to enter the Cambodia because of my car is RHD Right Hand Drive. I went back to Pattaya and stayed a couple days. Enjoyed the beautiful scene and cool breeze on the beaches there.
While I was in Pattaya, I contacted Laos and Vietnam embassy to see whether I could get some sort of advance permit, something like "passport or visa for the car". I find no one is able to give me an answer whether my car would be allowed entry into Laos or Vietnam. This is because Malaysia and Laos or Malaysia and Vietnam do not share a land border and are separated by 2,000-3000+ KM of Thailand. After having enough rest, I decided to give it a try. I changed my route to Khao Yai, Nakhon Ratchasima, Korat, Mukdahan and enter to Laos?? via the second Thai-Lao Friendship bridge. Some people suggest me not to use the bridge because the risk of being denied is high. Life is simple, you made choices, you don't look back, I just go with my plan.
Here's the process to drive a Malaysian car into Laos via Thailand:
Leaving Thailand:
Parked my car at left hand side together with cars leaving Thailand.
Bring my passport and went to Booth No 5. They stamped my passport and I am ready to leave, but not my car.
Submit my car registration card (Geran) and "Simplified Customs Registration Form" to the next Booth. The first officer who took my documents rejected me. He said I couldn't leave this check point and enter Laos with my car. He wasn't wrong but I am not someone give up on things easily. So I brought all my documents and went into the immigration office to talk to a "Supervisor". The friendly Supervisor said they have never seen any Malaysian car here and I was the first one. She was surprised and don't know what to do too. She then called her "Hua Na" (Perhaps is her Manager) and reported my case to him. After more discussion with manager, she came back to me and said they granted me the permission to go upon a "Special Case". Total time taken from arriving at the Mukdahan Boundary Post to finishing all formalities and driving out to the Thai-Lao Friendship Bridge is about 2+ hours. All in all, a very pleasant experience and no money exchanged hands anywhere during the process.
Drive to the toll way and paid 50THB fees for using the bridge. This is where everything changed to right-hand drive.
Entering Laos:
First I parked my car on the right side before entering the custom. (Everything changed to right hand side in Laos)
Bring my passport and get a stamped at the immigration. I was told to pay 60THB. It was with a receipt but no amount was printed on it.
I found a new device "Lao Custom D53 Declaration System" which required every car owner to declare their vehicle before entering Laos. I entered my vehicle information, driver information and declaration information. Surprisingly there is an option to select "Malaysia" in the system. I even see "Singapore" too. The device printed a piece of sticker with my car information on it.

Laos Custom D53 Declaration Car Permit Sticker

I bring this sticker and walked to a booth to pay 65,000 Lao Kip. 50,000 Lao Kip is for the car import permit, 15,000 Lao Kip is for the D53 Sticker. I do not have Lao Kip with me so I was told to pay 160 Thai Baht. Lao Kip has inflated seriously over these years and the rate was 10,000 Lao Kip for 20 Thai Baht at that time.

While I thought everything was done and I am ready to go, I was told to meet an officer for an interview and approval. The immigration officer asked whether I had the "car passport" book with me. Every Thai and Laos vehicle has a purple/yellow "Car Passport", the custom will stamp an "in date" and "out date" when you enter and leave their country. I tried to explain Malaysian car do not have that. The officer couldn't understand the car registration certificate from Malaysia which is printed only in Malay. They couldn't or have no idea where to stamp the enter date.

After a long discussion with the officer, I showed him a copy of "Simplified Customs Declaration Form". I do not want to show this to him because the original one has been returned to Mukdahan custom when I left Thailand. I do not want any further misunderstanding. The officer then read the paper and asked me why there is no stamp on the paper proving you have left Thailand legally. Again, more explanation is needed as expected.

In the end, the helpful officer enter my car details into their system according to the Customs Declaration Form as they are written in Thai. Lao and Thai are extremely similar languages, the way both of these languages written is just slightly different, just like using a different "font type". The Lao officer is able to read and understand. However, he keeps asking the "Re-export Date" written in the "Simplified Customs Declaration Form". I was given 45 days to use my car in Thailand when I entered from Sadao border. It has only 5 days left when I reached Laos border. The officer read a few times and tell me that I have to leave Laos in 5 days. I tried to explain to him this was a photocopy, I have returned the original to the custom in Mukdahan. I will be given a new one when I back to Thailand. The entire conversation was done with my limited Thai and super limited Lao.
The officer then questioned me again, where are you going? how long are you going to stay in Laos? Which border are you going to use when you leave Laos? Again, I answered all his question politely with my super limited Lao mixed Thai mixed English language. He then granted me a 30-day entry into Laos with my Malaysian car by putting a stamp on the copy of "Simplified Customs Declaration Form" I brought along. Lao people are extremely friendly and helpful. I can feel this from the moment I stepped into this country. Do unto others as you would have them do unto you.
All in all, an excellent border crossing into Laos using a Malaysian car. Below is the video I made during Mukdahan Savannakhet Thai-Lao Friendship Bridge No 2 border crossing experience. If you have any questions to ask me, please go to this video and leave a message via Youtube. My Youtube channel is CD Chai, I will try my best to answer all your questions as much as I can.
I don't know what will happened when I reach the border between Laos and Vietnam. Perhaps Malaysia JPJ should issue a "Car Passport" for all motorist who would like to drive abroad? Last but not least, I very much enjoyed being able to drive my JDM car to and around Laos. I am still in Laos while writing this article. I do made a lot of videos about the experience of driving in Laos, the petrol station, the fuel price, and the road condition in this country. Hope this article was helpful and encourage everyone who "wish to" but "not-sure" to drive a Malaysian car or Singaporean car to Laos. Let's hope to see more Malaysian cars in Laos again. Perhaps we can form a group and drive into Laos together some time in the future!
advertisements

If you love this article, please PLUS it!