Draw simple cars
advertisements



Draw simple cars can be very easy with simple mind, simple tools such as a pencil and eraser, and a simple heart that love cars. We taught a lot of simple 5 steps technique as example to draw any cars such as cartoon cars, classic cars, muscle cars, as well as some great sports cars. These techniques can bring you a little happiness as well as the feeling of successful by getting a car drawn on a paper by your own. Let's see how to draw some simple cars.
Even though it is just a simple drawing, you will still need 3 major things which is "Imagination, Creativity, and Passion". You can simply click on one of the topic below, it will lead you to draw different types of cars:
1. Cartoon cars drawn-9 detail steps, 3 special tips to draw cartoon cars
2. Cartoon drawings of cars– 5 easy steps to draw cartoon cars
3. Cartoon car sketches– Fun and creative sketches
4. How to draw cartoon cars– 5 cute and easy steps to draw cartoon cars
5. Muscle car drawings– 5 coolest stepsto draw muscle cars
6. Muscle car cartoons– The drawing art of muscle cars
7. Step by step drawing cars–A real step by step drawing cars technique
8. How to draw cars– Some tips on how to draw nice cars
9. Draw cool cars– Drawing nothing but cool cars
10. Cartoon cars clipart– Some fun and cute clipart
11. Pencil drawings car – As simple as some pencil car drawings
12. Cartoon car art – All art of cartoon cars
Car no 1 – Draw a simple sedan car
Here we share a car drawing that base on a Toyota Vios/Soluna. If you notice the picture below, you will first draw the shape of the car, and then add 2 circles as the front wheel, and another 2 simple circles as the rear wheel. Draw the front head lamp, grill, fog lamp (optional), as well as a rectangle as the car body kits. Now, complete the art by drawing 2 small rectangle to form the side mirrors, and 2 very simple hyphens ("-") as the door handle.
Car no 2 – Draw a 4 door traveler car
Now we can learn to draw a little bit more. Follow the image here to draw the car. Once you have completed the initial drawing (thin line technique), you can darken the line and draw some shadow. Additional antenna will make the car look more lively. You know what makes fun is there is no law in drawing, you can draw a stack of boxes on top of the car to make it look more vivacious.
Isn't it easy too? You can check out the some of the Japanese concept car if you want to get more ideas and learn more about how to draw simple cars.
Draw simple classic cars
Alright, it's time to learn some drawing technique for classic cars. Here we use a classic famous Austin 7 as example as it is one of the well-known car used by most of the rich man long time ago. Draw a classic car are unlike modern car, as we know classic car's shape are totally different from modern car like those super exotic sports cars. The shape for Austin 7 is much squarer than Ferrari, nothing to compare. Prepare a ruler if you are beginner. You can also print this image out, put your paper on top of the car image, then follow the line to draw the car.
So, have you learnt how to draw simple cars?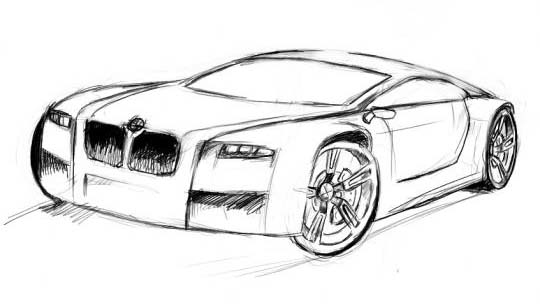 advertisements

If you love this article, please PLUS it!