Cute Valentines Ideas with Cars
advertisements

Where Valentine's Day come from? February 14 is a very romantic day known as Valentine's Day. There are hundreds of rumors and even thousands of articles about where Valentine's Day comes from. Since this is a romantic day for all lovers, I will talk about the most romantic chronicle where Valentine's Day come from.
Cute valentines ideas for a boyfriend/girlfriend
Tell them the romantic Valentine story.
It started from both Roman and Catholic roots. Valentine's Day came from the time of Saint Valentine, who was a Roman and also a martyred in 269 AD. On February 14, Saint Valentine refuses to give up Christianity. The story said that Saint Valentine had fall in love with his jailers daughter and he left a love letter that seal with a kiss for her to find after his death, very romantically, the letter signed "from your Valentine".
Another story saying that during the 3rd Century AD (201 to 300 in accordance with the Julian calendar in the Christian/Common Era), the Emperor Claudius II strictly prevent or avoid young men from marrying. This is because the Emperor believed married soldier will be less effective fighting in the wars during his reign. Here comes Saint Valentine who was an early Christian Bishop, is said that he secretly helped most of the young couples by running illegal wedding ceremonies. He was killed for this and later made a saint. Therefore, February 14 became St Valentine's Day as his death is because of he connect all the lovers secretly.
What cars lover did on Valentine's Day?

Valentine flowers! Roses is the most suitable flower for Valentine's Day. It represent the romantic of the day! Picture above showing how 10,000 Red Roses look like!


Yes Mini Cooper Cabriolet is one of the best choosen cars to deliver these roses on Valentine's Day! This is a very creative idea for girlfriend!


The cabriolet has to be taken down to load 10,000 roses into the car safely! Well, probably this Mini could be 10 Most Outrageous Paint Jobs of 2008?
What else Mini can make a Valentine's Day memorable?
A cream white color Mini Cooper appear in a couple's wedding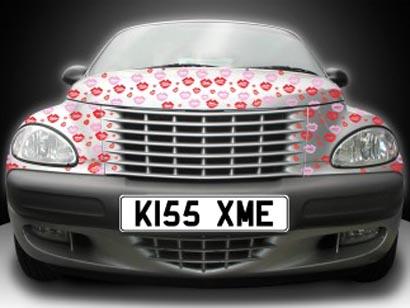 Some romantics searching for a Valentine's Day present with a difference are being urged to consider a car number plate. Look at this registrations number that begin with KISS!

Cute valentine sayings
"Love is not love that alters when it alteration finds."
-Shakespeare
"If I could reach up and hold a star for every time you've made me smile, the entire evening sky would be in the palm of my hand."
-Unknown
"You don't marry someone you can live with – you marry the person who you cannot live without."
-Unknown
"Life has taught us that love does not consist in gazing at each other but in looking outward together in the same direction."
-Saint-Exupery
"A kiss is a lovely trick designed by nature to stop speech when words become superfluous."
-Ingrid Bergman
"I never knew how to worship until I knew how to love."
-Henry Ward Beecher
"True love is like ghosts, which everybody talks about and few have seen."
-La Rochefoucauld
"Better to have loved and lost, than to have never loved at all."
-St. Augustine
"To love another person is to see the face of God."
-Les Miserables
"Love is but the discovery of ourselves in others, and the delight in the recognition."
-Alexander Smith
"Sympathy constitutes friendship; but in love there is a sort of antipathy, or opposing passion. Each strives to be the other, and both together make up one whole."
-Samuel Taylor Coleridge
"The richest love is that which submits to the arbitration of time."
-Lawrence Durrell
"very small degree of hope is sufficient to cause the birth of love."
-Stendhal
"If life is so short and I would have force to add a time limit to our love, I hope it will be, ten thousand years"
-AngelinaSoul
Valentine Poems
– A Valentine is nothing like –
A Valentine is nothing like
A chocolate or a rose.
For in a week these shall be gone,
But Valentines remain.
If love were always sweet to tongue
Or fragrant to the nose,
Each day would be like Valentine's,
And we would go insane.
A Valentine just hangs around
Waiting to be kissed
Long after special days have passed
And every days are here.
So one is wise to choose one well
And chocolates to resist.
For in the midst of mania
It's nice to have one near.
Valentine's Day has never completely been forgotten, though it wasn't always the major festival it is today. It has becoming a day for all the lovers to exchange love cards, gifts as well. It has been fairly widespread since the 18th century. Malaysiaminilover.com wishes all of you a great Valentine's Day!
advertisements

If you love this article, please PLUS it!