Articles in the Nissan Category
advertisements

Nissan is famous for making cars that emphasize on fashion-forward style and performance. Nissancars lineup include sports cars, SUVs, sedans, wagons, pickup trucks, and minivans.
Nissan (Nissan Motor Company, Ltd. or日産自動車株式会社in Japanese), being number eighth largest automaker in the world (as of 2009, see alsocar manufacturer statistic), is another very well-known Japanese carmaker.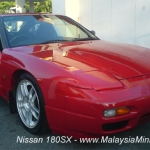 See how one of the legendary drift cars 180SX built at Nissan Factory in Japan. The car shared the same chassis with the Nissan 200sx, 240sx which is S13 chassis. Watch as Ken Nomura visits Nissan to watch the build of several 180SX's one of which will leave the factory with him. It is great to watch brand new 180sx was built and non corroded parts on an S13 Chassis.
2004 Nissan Sentra for sale in Malaysia. Cheap, reliable, low fuel consumption, good looking Nissan sedan cars in that able to make your trip wonderful with 5-seater. The car is located at The Mines wonderland, Selangor Darul Ehsan, Malaysia.