Car wash equipment
advertisements

Here is your useful A-list of new and used car wash equipment and comparison of several equipment prices for people who are starting a car wash business. The key to success in any kind car wash business in anywhere is just one word, which is "Clean". Everyone who sends the car to car wash is expecting the car as clean as a new car. Therefore, equipment plays an important part in this business.
Here is the list of equipment that you probably need to start up a car wash business depends on your choice and your budget.
In Bay Automatic car wash
In Bay Automatic car wash system consists of bay where customers drive their cars into it, and enjoy the fully automatic car wash. Customers can pay through the automatic cashier before they drive into the bay. Majority of older equipment usually used rotating brushes with soft nylon bristles or soft cloth to remove the dirt from car. A better and newer equipment available nowadays is called the "touchless" or "no-touch", which use high water pressure to wash the car instead of brushes. This is to prevent contact with friction to the car so there is no harmful to the car.
Tunnel car wash equipment
This is automatic equipment which built into tunnel-like bays. You can set the mechanism inputs into a tunnel controller automatically. Customer pays the car wash amount, and the car will automatically line-up to the stack or roller which moves automatically. Customer will not have to do anything until the car is washed. A good car wash equipment manufacturer will use many different pieces of equipment to clean the vehicle thoroughly. A good and complete system will include the automatic car dryers.
Self service equipment
This system is good for business owner who target on car owner who would like to wash their own car. This type of car wash is cheaper and suitable for people do not have high budget for fully automatic equipment. Self service equipment consists of:
Pre-soak, soap, foam brush
Tire/engine cleaner
Wand Holders & Trigger Guns
High pressure water wash
Low pressure spot-free rinse
Interior fragrance machine
Vacuum for Interior carpet
Timers to tell customer how much time they have
Payment system to collect car wash payment (card system or automatic cash machine)
Air drying equipment or blowers
Bikini

car wash
Well, another car wash idea is Bikini car wash which requires only a little equipment but a lot of hot car wash girls. This type of car wash is usually depends on the country's law but it is proven a success to attract a lot of customer especially male driver.
In U.S, there are many brands available in the market such as D&S, HANNA, SONNY'S, Ryko, ACES, Belanger, Fuller's, PECO, PDQ, and among others. What is important when considering a set of used or new car wash equipment are:
The maintenance fee of the equipment
The speed of the equipment like the ability to wash how many cars in an hour
The use of water and energy like electricity of the equipment
How the equipment clear the contaminated water or dirty water
Car detailing service
Many full service car wash centers will usually provide the detailing service after car washed. Detailing services may include polishing and waxing the car exterior by machine or hand, or hand using machine, shampooing and steaming interiors, extra protection to the car body from sun light, interior dashboard and upholstery protection, carpet vacuuming and other services to give a car full cleaning and protection like a new car.
In conclusion, the price for all the equipment is various, if the budget of starting a car wash business stands in the middle, it is recommend to try out some leasing equipment or used car wash equipment.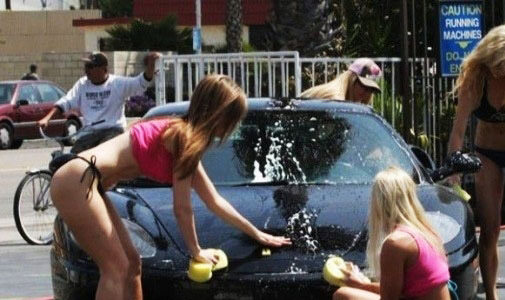 advertisements

If you love this article, please PLUS it!