3 wheel cars
advertisements

Here's your delicious A-list of manufactured 3 wheel cars since last century, A-list of history, pictures, and video for all three wheel car available in every corner around the world. Three wheel car is car that only having 3 wheels, with either one wheel in the front (work as steering) and two at the rear, or two wheels in the front (work as steering) and one at the rear, or any other kind of combination as long as the wheels looks like a triangle.
Any cars or automobile having 3 wheels is also known as a tricar or tri-car, where Tri always means a formation of 3 points of 3 things to achieve some mission. One of the best examples of three wheel car is the first car invented by Karl Benz, the Benz Motorwagen. The car was unveiled in 1886 with two big wheels at the rear for power and a smaller wheel at the front for steering purpose. Several shining copper tank with some bicycle-look gear form the engine at the rear nicely. The shining engine and whole car structure looks high quality, whoever sees it will feel like to give a ride on it. Let's give the person who invented the car a big hand clap.
Three wheel car in China
Way long ago Before Century in China, the Chinese had invented one kind of three-wheeled vehicle powered by human's energy which called "San Lun Che", in Chinese is "三轮车". The direct translation from Chinese is "Three-wheeled car". Until today, this kind of car has become a fun car for short distance trip, or some Chinese use it for wedding purpose. You still can get a chance to sit on it at some tourist spot in China and some other Chinese-related tourist spot such as Shanghai, Penang (Malaysia), and Malacca (Malaysia). It is not world fastest car and may be world slowest car, but it will give you a real fun experience.
Three wheel car in Thailand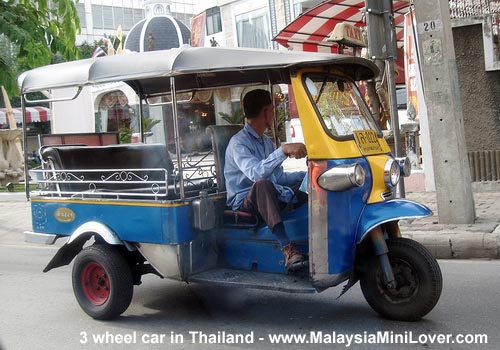 What do you think of three wheel car in Thailand? You must have surprise when you first travelling to this Amazing country. It is the "Tuk-Tuk", or "ตุ๊ก ตุ๊ก" in Thai language. It is not any super exotic sports cars , but it is just Fun! You gotta try it once in your lifetime. It is a common 3 wheel cars you can see everyday in your life if you live in main town Thailand. It is the Taxi powered by an engine similar to motorbike for short distance in down town, and guess what? The charges is about US$1-US$10 depends on distance
Three wheel car in Europe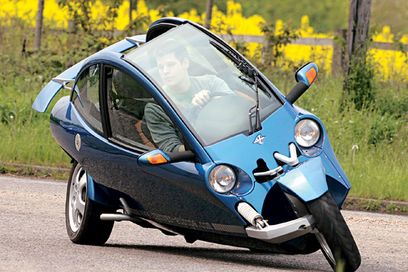 Recent year, Carver Europe manufactured a tilting three wheeled car using an automatic balancing technology, call the Carver car. Let's Jeremy Clarkson from BBC's Top Gear program say this for us, "I have to say, absolutely hand on heart, that I've never had so much fun in a car, really and truthfully, and I don't think I'd ever tire of it." See also uk car park fun and you will know how fun it is.
Not to forget to check out another famous Blue color three-wheeler Reliant Regal Supervan that always appears as the enemy of Mr. Bean's Mini Cooper. This is also a famous car among all the people in United Kingdom and for people who loves Mr. Bean Series.
A list of manufactured 3 wheel cars
There are several three-wheeled car invented, manufactured and sell to the market after Benz Motorwagen. These cars have included the Aurora from England, La Va Bon Train from France, Margan V-Twin and F-Series from U.S and until 50's Japan introduced their first three-wheeled car as Daihatsu Bee. Check out the full list here:
A

Aptera 2 Series
Arola (microcar)
Atomette
Auto rickshaw
Autotrix

B

Biotechnia Ellinikon Trikyklon
Bond 875
Bond Bug
Bond Minicar
BRP Can-Am Spyder Roadster
Brütsch

C

CLEVER
Campagna T-Rex
Carver Car
CityEl

D

Daihatsu Bee
Daihatsu Midget
Dymaxion car

E

Electric motorcycles and scooters
Epeds

F

Fabrique Nationale AS 24
Felber Autoroller
Fend Flitzer
Fuldamobil

G

H

Harley-Davidson Servi-Car
Heinkel Kabine
Honda Gyro

I

J

K

Kapi
John Henry Knight
Krauser Domani

L

Lambert (cyclecar)
Le Favori
Leanster
Libelle (microcar)

M

Marie de Bagneux
Mazda Mazdago
Messerschmitt KR200
Messerschmitt KR175
Morgan Motor Company
Myers Motors NmG

O

P

Peel Manxcar
Peel P50
Peel Trident
Persu Hybrid
Piaggio Ape
Piaggio MP3

R

Reliant Regal
Reliant Robin

S

Scammell Scarab
Scootacar
Scott Sociable
Shelter (automobile)
Sinclair C5
Spira (car)
Steam tricycle
Styl Kar

T

Tourette (automobile)
Tri-Magnum
Triac (car)
Triking
Twentieth Century Motor Car Corporation
Twike

V

X

XR-3 Hybrid
Xtra (automobile)

Z
So, after seeing all these information, pictures and video, do you feel like to get your butt on any 3 wheel cars?

advertisements

If you love this article, please PLUS it!