1957 Chevy pedal car toy
advertisements

Here is your delicious A-list of '50s Chevy pedal car toy and some rare model of 1957 Chevy Bel Air pedal car toy die cast from Gearbox and Texaco. According to automobile history, first pedal cars was introduced in late 1880s when Karl Benz, who invented the car unveiled the first petrol powered car the Benz Patent Motorwagen in 1886. Since then pedal cars were becoming famous in early 1900s in Germany, England, France, Switzerland, Italy, Australia, and United States.
Here comes our top list of 1950s Chevy toy cars. There is no ranking for these 5 cars.
1957 Chevy Pedal car keebler
This is definitely a cool Chevy convertible during the 50s that has a "Keebler" and "Raleys" emblems on it. The body of this pedal is car made out of plastic and not fiberglass. One of the coolest '50s pedal car.
1955 Chevy Convertible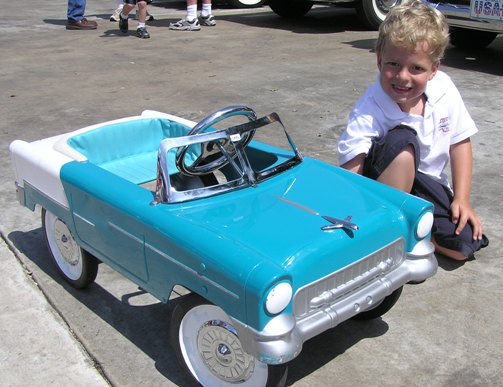 Here we have another 1955 Chevy convertible from Carl Soeffker. The car won the Dallas Area Classic Chevys "Favorite Tri Five Chevy" award at the 28th Lone Star Convention in San Antonio. What a great car with a great owner who was born in 2005.
Sunshine 1957 Chevy Convertible pedal car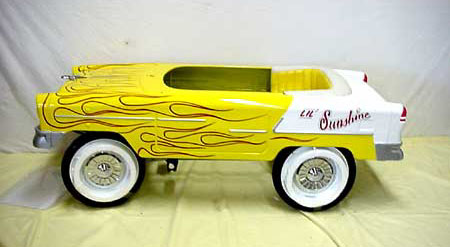 This is another 57 Chevy convertible with airbrush, white wall tires, and a cool decals "in' Sunshine" at rear. It is another cool antique toy pedal cars.
1957 Chevy Bel Air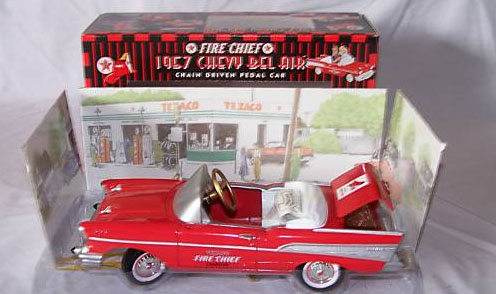 This is an interesting collection. It is limited edition of Texaco Fire Chief 57 Chevy Bel Air chain driven pedal car coin bank. There are only a total number of 4400 of this car was made in 1997 by Gearbox Toys and Collectibles. This car is made of extra heavy die cast metal, has chain driven pedals, custom tampo printing, steerable wheels, movable tires, the boot can be opened, and it is a hidden coin bank.
Pedal cars seem to be capturing the interest of more collectors than ever before since the first pedal car appeared in late 1880s. There are more and more pedal cars made by toy companies and these allow collector stand more chance to collect the car they want. Among all the pedal cars, the one that people always look for are the rare pedal car toy that in mint condition.
advertisements

If you love this article, please PLUS it!