Volkswagen 1-litre: $600 dollars car for 258 mpg
advertisements

The 42nd Annual General Meeting of Volkswagen AG on April 2002 in Hamburg has brought the world a hope that world's most economy car is about to born when Dr. Ferdinand Piech drove a concept car from Wolfsburg to Hamburg. The concept car is a two-seater rear-wheel-drive small car. The seat is designed in tandem like the Messerschmitt Kabinenroller from the '50s rather than side-by-side like ordinary car to keep its aerodynamic and also giving larger side crush zone. Everyone who has seen this car during Dr. Piech's journey was shocked.
With the dimension of 144 inches in length x 49 inches in width x 44 inches in height, driver can easily have a glance by turning only the eyeball when sit in the car. As for the engine, it is powered by a singled-cylinder with three valves. The curb weight of the car is very light at 639 lbs. There are several strong men can perform bench press with this weight. With such light weight and simple engine, the average fuel consumption is 258 mpg or one liter for 109 km. It is even better than the best electric car mileage available in the market today.
The biggest challenge for Volkswagen's Research and Development division is to create a reliable car with all the safety features that could achieve 100 km for 1 liter petrol. It took them three years to bring this little car on the road. "It really is a fascinating experience to drive through the night at 100 km/h with the fuel consumption indicator showing just 1.0 liter for 100 km, and nothing but the stars above your head", said Dr. Thomas Gänsicke, Project manager. Lightweight body, aerodynamics design, newly invented starter-alternator, tires and other special components are what make this car a reality but not just a dream. The car body uses carbon fibre and remains unpainted. Subframe and wheels are built with magnesium-allow with the purpose to reduce the total car weight but not scarifying the safety.
Details of the car:
Make: Volkswagen
Model: 1-Litre
Displacement: 299 cc | 18.2 cu in. | 0.3 L.
Weight: 639 lbs | 289.9 kg
Fuel consumption: 258 mpg or 0.99 liter for 100 km.
Power: 8 bhp @ 4,000 rpm
Top Speed: 74.6 mph | 120 km/h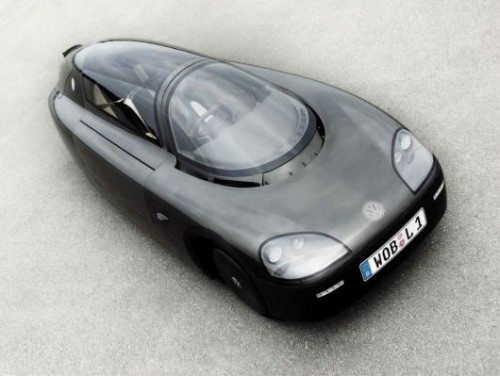 Last few years, rumors flying around saying this car will be released in China in 2010 for just $600 which is 4000 RMB. However, we believe the price tag will never happen. Volkswagen delayed the production until 2013 and we have never seen any more news regarding this little car with high fuel consumption. Whether it is truth or fiction, let's hope this car will be on sale soon at reasonable price.
advertisements

If you love this article, please PLUS it!