Transporter 2 Lamborghini
advertisements

What car was used in the movie Transporter 2? The car used in Transporter 2 is Lamborghini Murciélago Roadster. It is a very high performance car produced by Italian automaker "Lamborghini" and it has became a movie star. The Murciélago was designed by Luc Donckerwolke, first introduced in year 2001 and it is well-known as fast cars, cool cars, hot cars, sports cars, exotic cars…etc.
Lamborghini Murciélago Roadster – The name Murciélago means "bat" in Spanish
6.2 litre V12 engine (2001 – 2005 model year, 571 bhp, 0-62 mph in 3.8 sec)
6.5 litre V12 engine (2006 model year – Murciélago LP640, 632 bhp, 0-62 mph in 3.4 sec)

6.5 litre V12 engine (2007 model year – Murciélago

LP640 Roadster, 632 bhp, 0-62mph in 3.2 sec)

6 speed manual/6 speed sequential automatic transmission
4 Wheel drive
Adjustable rear spoiler (can be raised to an angle of 70 degrees)
Foldable side mirrors (to improve dynamics)
Fuel usage – 8 to 13 miles per gallon (See Gasoline price history)
Estimated price USD $313,000
The car has become a movie star in the movie Transporter 2. The hero cum driver in the movie is Frank Martin which the role was played by Jason Statham, a private chauffeur with inconceivable driving skills who lives his life by driving his car to deliver his customers' product and the delivery rules is "100% delivered". In the movie Frank needs a fast car with good aerodynamic shape, he picks a Lamborghini Murciélago Roadster as his transport to save the day in the final climatic car chase scene.
The car features paddle shifting behind the steering wheel and it appear in the movie perfectly, the top speed of the car can go 320 km/h. Well, if you want to feel more about the Lamborghini, try to watch Transporter 2, or start to watch the Transporter 2 trailer.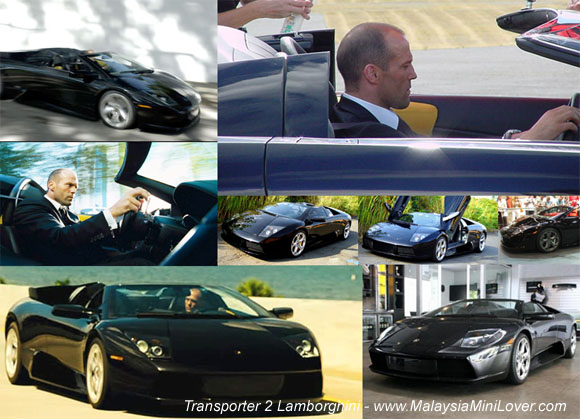 advertisements

If you love this article, please PLUS it!