Top 10 coolest Japanese cars from the '80s
advertisements

Do you believe that where you born and when you born give a different kind of life? If you are born after '90s, you stand the chance to ride on some of the latest exotic cars like Audi R8, Nissan Skyline GTR, or Ferrari 458 Italia. Imagine those people who drive in the '80s, they do not have all these latest sports cars or even iPhone of iPad, but they do have something that we did not have. Here we worked out the list of top 10 coolest Japanese cars from the '80s. These cars are still able to catch some of the pedestrians' eye when it stops at red lights. Be patient and read one by one until the top one, each one is more and more interesting all the way down.
#10 Nissan 280ZX (Datsun 280ZX)

The Nissan 280ZX is the second generation among Nissan Z cars. It was first introduced in 1979. The special out look has catch most of the sports cars lovers in the '80s. There are no words can explain the handling and driving experience of this car until you sit in and hold the steering wheel by yourself. Without this car, we couldn't see some other Z cars like 300ZX, 350Z, and today's Fairlady 370Z.
#9 Toyota Celica

Celica, Celica, Celica. It sounds like a beautiful and sexy girl's name but the name is actually derived from Latin which means "heavenly". Toyota must have hoped everyone who drives this car feel like in heaven. Okay, the girl ain't from the '80s.
#8 Honda Prelude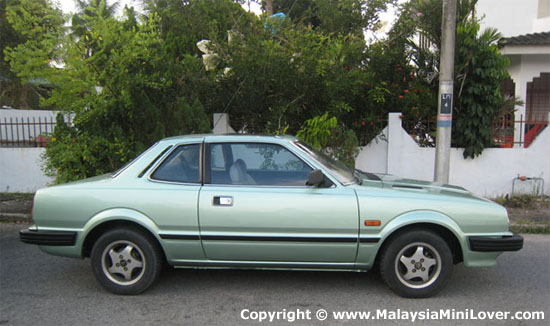 Do you believe that whenever there is a Toyota, there will be Honda? This has been rumors even when we look at the cars in the '80s. The first generation of Honda Prelude was introduced in 1978 with the square light (see 1980 Honda Prelude). The design was then changed to flip headlamp to target consumers who love flip headlamps. The car is pretty cheap to buy and was one of the best selling coupes during that time.
#7 Toyota Starlet
Cute, fun, small, and easy to drive in the '80s but today it has become one of theToyotacollector cars for people who love cheap Japanese retro cars.
#6 Honda Civic
The Civic in the early '80s is as cute as the Toyota Starlet. However, it received a major changed in 1988 and since then it is getting bigger and become compact car in 2001.
#5 Mazda RX-7 FC
Anyone who love drifting or who love the cartoon "Initial-D" created in Japanwill love the white color Mazda RX-7 FC. The FC comes around mid of '80s and it is always the biggest competitor to Toyota AE86.
#4 Honda Accord
Long time ago back in the '20s and '30s, wealthy people have started to look for luxury car to fulfill their life. The Honda Accord in the '80s is considered as a luxury ride for businessman or CEO at that time. You can see this car in Simpsons series too!
#3 Toyota MR2

The first generation of Toyota MR2 may look a little "square" but that is what most of the Japanese cars in the '80s are. If you ever read one of our articles "Cars, Automobile, and Our World" you will understand why.
#2 Toyota AE86 Trueno Sprinter

We couldn't not to put the legendary Toyota AE86 Trueno Sprinter into the top 10 coolest Japanese cars from the '80s. If we don't, many AE86 fans will blame us. It is too attractive especially when the car is spray to Panda. Does Panda even drift?
#1 Nissan 180sx (Nissan Silvia)

We would say the design of Nissan 180sx is definitely ahead of its time. It is still look as good as many sports cars today although it was introduced in late '80s. Other than just the outlook, it is still a champion and winner in many drift competition. It is a drift machine that sought-after by many drifters and car collectors.
advertisements

If you love this article, please PLUS it!