Top 10 cars at Geneva Auto Show 2011
advertisements

Here are the top 10 cars at Geneva Auto Show 2011. Technology keep moves on, the air of 2011 Geneva Auto Show was full with electric cars, concept cars, and off course with some of the cool cars. We only see few gasoline-powered cars in the top 10 list because what the world need is eco-friendly cars, green technology, as well as environment friendly cars.
1. Rolls Royce 102EX Concept
Remember Rolls Royce ads claimed that the loudest noise inside a Rolls-Royce car was the electric clock at the speed of 60mph? The electric-powered Rolls Royce 102EX is now even quiet with serene motor-wafting.
2. Volkswagen Bulli Microbus Concept
Remember the Volkswagen Type 2 or Kombi or "Transporter" or Bus or Camper that introduced in 1950? The Bulli Microbus concept has a little similar of the Kombi. This time, it is a cyber and futuristic microbus.
3. Nissan Esflow Electric Concept
As one of the leader in making sports cars, Nissan has brought us this all-electric powered sports car, the Esflow Electric Concept. In the past Nissan has Skyline, Fairlady, and Silvia as a huge success, will this Esflow replace one of them in the future as a zero-emission sport cars?
4. Smart Forspeed Concept
Smart is always smart. This time, it is even smart for more speed.
5. Ferrari FF
Well, in personal opinion the design of the Ferrari FF is not so futuristic if compared to the Ferrari 599 GTB Fiorano. However, stating that this is the most powerful and the most versatile Ferrari cars it has ever built.
6. BMW Vision ConnectDrive Roadster Concept
Cyber, Cyber, and Cyber best describe this BMW. It is like 10 times of the 2010 BMW Z4. If the movie RoboCop is going to remake, this is definitely the best car for RoboCop.
7. Alfa Romeo 4C GTA
If we are required to choose a "Miss Universe" from the 2011 Geneva Auto Show, we will definitely choose this pretty Alfa Romeo 4C GTA.
8. MINI Rocketman Concept
Mini has already recognized as "a small car that never disappear from the surface of earth". This MINI Rocketman Concept has made its way to go back to the classic Mini size. A MINI smaller than the Mini.
9. Toyota FT-86 II Sports Coupe
It is the son of the legendary Toyota AE86 that appear in Initial-D.
10. Lamborghini LP-700 Aventador
The Lamborghini LP-700 Aventador has finally debut in the 2011 Geneva Auto Show. It is no longer a concept car and you can purchase it right away for $379,700. It is the replacement for Lamborghini Murcielago and it is one of the best exotic cars at all time.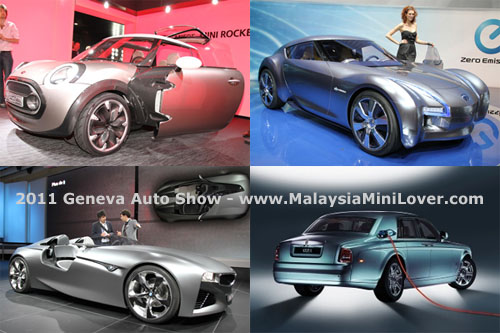 Top 10 cars at Geneva Auto Show 2011
advertisements

If you love this article, please PLUS it!