Thai girls – University
advertisements

A lot of Thailand and Asia readers have been attracted to this car blog lately, so Angelina is going to expand more topics about this blog. Today, Angelina is going to bring all the readers tour and get know of Thai girls who study in University. There are quite a number of pretty car girls and hot car girls that appear in Bangkok car show are studying in University.
In Thailand, girls who study in University has to follow the rules to wear their school uniform which known as "NISIT" uniform. NISIT uniform for girls comes with white shirts and black skirt. Unlike some other country, the uniform for University is so boring. The NISIT uniform perfectly shows out the student cute-yet-smart look.

Believe me, some of the car show model organization look for sweet car girls by standing in front of any university main gate during off school time to look for suitable car model.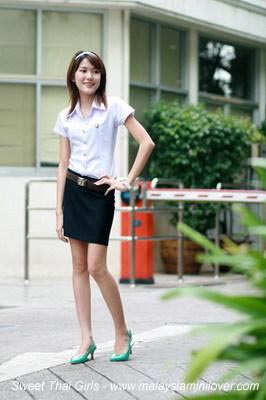 Model spotted by MalaysiaMiniLover
Name: N/A
Body: 32-27-33
height: 162 cm.
weight: 44 kg.
Thai Girl

It can be said that most of the University in Western country do not require their students to wear any uniform, any casual wear can enter to the school and study. There are pro and cons, sometimes the beauty of wearing uniform will be neglected. However, Thai girls is just looks pretty, sweet, and cute in their cultural NISIT girl uniform.
advertisements

If you love this article, please PLUS it!