Smart car body kits
advertisements


Smart car body kits are available here. If you looking for real nice car body kits for Smart with reasonable price, this one of the best place you should drop by. There are several types of body kits available for all Smart cars ever since the first Smart car was introduce in 1998 as Smart City-Coupe & City Cabrio. The body kits also cover Smart Fortwo, Crossable, Roadster, and Forfour.
So, what kind of body kits available and suitable for Smart car?
Kuhl FX body kits for Smart Fortwo
This is one of the complete aerodynamic body kits for Fortwo. It comes with an unique style to an unique mini cars and it looks as cool as tricked out cars. A set of complete body kits includes front bumper, a pair of side skirts, and rear bumper. What makes Kuhl FX special is the rear bumper has got the option with trim piece where you can add the exhaust to go through the bumper. The standard market price for this stands around US$1,695.00.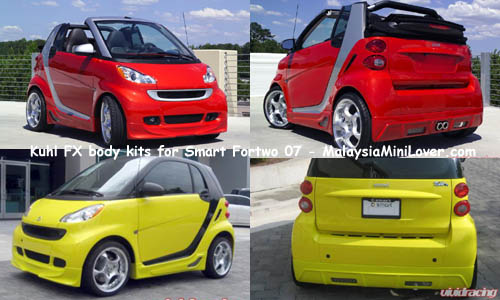 Smart car Carlsson body kits with dual exhaust Fortwo 451
This is one of the most famous body kits that makes the car look luxury as a mini pimped out cars. The Carlsson body kits give Fortwo a significantly more purposeful look all around. The polyurethane front spoiler complemented by an electro-polished, stainless-steel grill insert (optional), and a pair of fog lights with chrome surrounds (optional). What makes it easy is it can just attach to the standard bumper without have to remove it. The rear kit are optional to upgrade the looks that deliver a deeper, and more sporting note.
Konigseder Smart Fortwo Wide Body kits
Yes I know Smart Fortwo is mainly build for its well known Mini size, but there is still a wide body kits available for it. This was developed by Austrian tuner Konigseder that add an extra 30mm on each side of the car with some fancy flower graphic (do not ask me about these fancy graphic). With these body kits, you can place a larger 5-spoke 17-inch (7,5 x17 front and 9,5×17 rear) sport rims to the car. Alternatively, you can add a set of Eibach sport springs that able to lower the car and make it more stable and look like mini sports cars, isn't it cool enough?
Brabus body kits
As we all know Brabus body kits are famous for the famous elegant car Mercedes-Benz, and it does develop the cool body kit for Smart. The Brabus body kits constructed from high-quality fiberglass-reinforced P.U.R (Polly Urethane Resin) and it bring aggressive look to the car. What makes it famous is it perfectly adapted smart styling, bolt-on, and easy to install.
Lorinser body kits for Smart
Available for coupe or convertible, this type of body will definitely let you to customize your own car in a very special way. No cutting involved for the installation, Lorinser logo is included for this kit in either black or silver.
Smart car 451 S-Mann body kits
This is something great from S-Mann, it allows you customize a car easily with this easy-to-fit body kit. S-Mann body kit are constructed from high-quality ABS plastic, it comes with 2 cool fog lights hole to fit the lights in. If you model do not have the lights, you may have to buy one!
Unreal Smart car body kits
There are a lot of so called smart car body kits picture available in the internet that says can convert the Smart Fortwo to the look of Audi, Porche, Chevrolet Corvette, BMW, Mini Cooper or even exaggerate to look like Ferrari or Lamborghini look. Well, it is all bullshit and just a fantastic graphic work. If you look at the picture, the car chassis do not even match the ForTwo, therefore just keep these pictures for fun, do not dream to pimp your ride. What even funnier are some of these car names as "Smaudi, Smorvette, Smamborghini, Smerrari, Smord Mustang, Smorsche, Smini…etc" (See also Funniest car names and the list of car names). It might be any harmless car pranks or very great car pranks that mislead a lot of car lovers.
Where to find Smart car body kits?
Currently we have one and only source around the world.
eBay – It is one of the best place to shop for any car accessories and who knows you might get a good deal through the auction section. For your information, our stocks are coming for all the smart car body kits.
advertisements

If you love this article, please PLUS it!