Nissan 180SX for sale
advertisements

Nissan 180SX for sale in Malaysia. The car is located at USJ3 Subang Jaya, Selangor Darul Ehsan, Malaysia. Cheap, reliable, good looking sports cars in Malaysia that able to make you as cool as the transporter 2 Lamborghini, it is most of drifters' dream car.
It is my friend's wife's car, thus the condition can be imagined as a women's 180sx. Let's direct talk about the detail of the car. It is imported from Brunei through local AP to Malaysia. My friend's wife is a Bruneian, she married here and bring over the car in 1999 through personal AP.
Nissan 180SX
Make: Nissan
Model: RPS13
Engine: SR20DET Turbo auto transmission
Displacement: 2000cc
Manufactured: 1993 in Japan
Mileage on meter: 175608
Registered: 1999 in Malaysia
No of Geran owner: Only 1
Exterior: Metallic Red
Wheels: 17" 5Dizen front and back
Interior: Original 180sx dashboard, 240KM meter, Digital air-condition controller, Apexi turbo timer, Alpine cassette player, Original Nissan steering.
Price:

SOLD

US$
Roadtax: RM379 a year
Location: SOLD
The whole car is basically original since it comes out from Nissan factory back in 1993. The engine has been transplant to SR20DET auto transmission few years back. The mileage on meter showing 175000+km is since it was new. 10 years car in Malaysia, women use so sadly it is an auto transmission, but it can be convert to manual gear box easily as the engine is in very good condition, silent when start it.
What's good on the car?
Good body, no major accident.
Drift virgin, see the car color you already know it is stil in red.
Original and you can customize your own car.
Silent engine and low mileage.
Nice and clean original interior
JPJ Malaysia has been approve for everything.
What's not that good on the car?
The rear of the car (place to put spare tires) has been jacked up wrongly by a stupid mechanic and cause it bulge. (You can clear see in the picture below)
Rear wheel on the right having small scratches due to his wife parking skills.
Ugly bumper (No offense, personal opinion).
Rating
If a perfect Nissan 180sx is rated at 10/10, this car would get 7/10.
Contact
The pictures below have a great explanation for the car, no time waster. For serious cash buyer, please contact: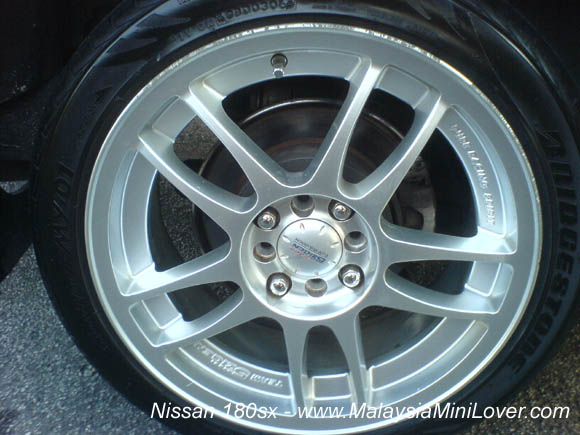 advertisements

If you love this article, please PLUS it!