1989 Mini Sky
advertisements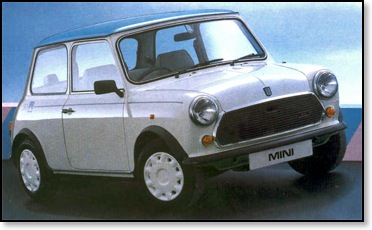 In January 1989, Mini launched one of their limited edition Minis – the Mini Sky. Mini Sky is based on Mini City and the production is only limited to 500 cars. Many of them are not surviving today thus not many people (include Mini fans) know about the existence of Mini Sky. Today, MalaysiaMiniLover is going to re-introduce the Mini Sky. It is a must to bring it back to life because the design is unique and the chances to see them in any Mini Cooper Gathering is close to zero.


There is always a question in mind when a Mini lover plan to rebuild their beloved Mini – "What kind of colors should I paint?" Well, the Mini Sky is definitely a great idea for you. The Mini Sky is painted in Diamond White with a Sky blue (some called it pastel blue) roof. The original Mini Sky features grey Crayons fabric seats, black carpets, grey interior, black wheel arches, black side mirror, white wheels, and surprisingly, black bumpers and black front grille.


The Mini Sky features "Sky" decals on the body. As this is a limited edition, they are no longer available for sale. The only way to get them is to create a custom decals from any sticker shops.


Just like other Mini in the Mini MK5 generation, the Mini Sky is powered by a 998cc four-cylinder engine.


A radio/cassette player was standard in every Mini Sky. In 1989, it costs £4,695 to buy it brand new.


The original Mini Sky is nice, however, we found a photo of Mini Sky from Dean's Minis who actually painted the wheel arches with Sky blue and replaced both the front and rear bumpers to chrome type. Isn't it look nicer?


Will it be nicer if the side mirror also painted in Sky blue? Can we make it even more "Sky" by making two tones "Blue-White" car seats like the 1994 Mini Cooper Monte Carlo in Mini MK6 generation?

advertisements

If you love this article, please PLUS it!