Mini ERA Turbo
advertisements

The Mini ERA Turbo was introduced in 1989 as a replacement for the Mini Cooper S. The ERA Turbo is based on a Mini City just like any other limited edition Minis found in MK5. ERA is stands for English Racing Automobiles, true to its name "ERA Turbo", it received an MG Metro turbocharged fitted to a modified 1275 cc four-cylinder in line OHV engine pumping 94hp at 6130rpm and 118 Nm of torque at 3600rpm. These amounts may be nothing in automobile world today but it was a huge success in the late 80s.
The ERA Turbo was styled by Dennis Adams, the designer of the Marcos sports cars and the Probe concept car. Just like any other Minis before the 80s, the ERA Turbo is a two-door saloon front wheel drive Mini. It was made available in two common exterior colors which are Flame Red (COF – BLVC818) and British Racing Green (HAF – BLVC617). Besides these two colors, consumers are given a chance to custom order the ERA Turbo in three other colors including black, white, and silver. Special things that separate the ERA Turbo from ordinary Minis are the body kit, rear windscreen wiper, and turbo bonnet badge. Other than that, the grille is fitted with ERA badge and the wheels are with ERA emblem. To match with the ERA body kit, the car received a set of 6 x 13 alloy wheels with Goodyear or Dunlop 165/6013 low profile tyres HR rated.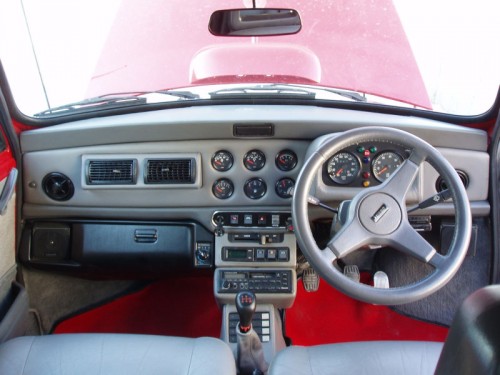 Inside the car, it looks totally different with all the Minis available during that time which are mostly in black. The seats and panels are available in full leather modified Austin Metro seats. Speed meter and rpm gauge are fitted right in front of the steering wheel. In the middle of the dashboard, there are six gauges showing different readings to the drivers including the two temperature gauges, one battery volt reading, two turbo boost meter, and a petrol indicator.
The production of the ERA Turbo is only limited to 99 for the UK market and 337 for the Japanese market. The ERA Turbo in for the Japanese are fitted with air-conditioning where the blowers are mounted on the left of the dashboard. A normal stereo is also available in the center with two speakers fitted to parcel shelf. During the launching, the ERA Turbo was selling at £9,501 (US$15,000 as of 2012).
Mini ERA Turbo specifications
ENGINE
4 cylinder in line OHV: Petrol, transversely mounted
Bore diameter: 70.61mm (2.78 inches)
Stoke: 81.28mm (3.2 inches)
Compress Ratio: 9.4:1
CLUTCH
Single dry plate hydraulic
GEARBOX
Four speed manual: transverse – front wheel drive
Ratios: 1st 3.647:1; 2nd 2.185:1; 3rd 1.425:1; 4th 1:1; Reverse 3.666:1; Final Drive Ratio: 3.21:1.
FUEL SYSTEM
Carburettor: SU HIF 44;
Turbo Charger: Garrett T3 with ECU controlled boost pressure. Max boost pressure 8psi @ 6000 rpm
BRAKING SYSTEM
FRONT – Ventilated disc 213mm: twin pot calipers 'H.1.' split dual circuit, servo assisted, hydraulic.
REAR – Drum: servo assisted hydraulic
Handbrake/e-brake: cable operation to rear wheels.
DIMENSIONS
Overall length: 10ft ½ inches (3.05m)
Overall width: 5ft 1 ¼ inches (1.56m)
Overall height: 4ft 5 inches (1.331m)
Ground clearance minimum: 6 inches (152.4mm)
Kerbside weight: 14 ½ cwt (737.29kg)
Thanks to the design of the car, the light weight body, and the power deliver from the engine, the ERA Turbo is capable of reaching a top speed of 115 mph (185 km/h) which could be scary for a little yet cute car like this. What else could be fun in a Turbo charged car is the achievement of zero to 60 mph. The ERA Turbo reaches 60 mph from a stand still position in just 7.8 seconds. It is also capable of reaching a quarter mile in just 16.6 seconds. What is even amazing is the fuel consumption that appeared to be 34.3 mph for 56 mph and 53.5mpg for an average 75 mph run.
The Mini ERA Turbo is the most successful 'voiturette' racing cars of the period. It was beautifully made, reliable, quick, solid, and with high fuel economy. An extra mark is also given to the car because it has all the key characteristics of the Cooper – speed, handling, excitement, and fun. If this car is going reproduced again, we believe there will be uncountable Mini fans waiting in front of the showroom to book the car.
Click on the image to enlarge it
advertisements

If you love this article, please PLUS it!