Mini Cooper S R53
advertisements

Mini Cooper S come after Mini One and Mini Cooper R50. The first introduction to Mini Cooper S was in 2002. An "S" added to the Cooper name means a sportier and more powerful version of MINI. These criteria is just same as the classic Mini Cooper S. The Cooper S has 2 types in MINI first generation/MK I Hatchback, which is Pre-facelift for model year 2002 – 2004, and facelift July 2004 – 2006. Both of this model years are known as R53 for the R-series.
Specialty of Mini Cooper S
Mini Cooper S come with supercharge engine.
Power boost (for facelift Cooper S)
A better gear ratio than the One and Cooper.
The battery was placed into the rear of the car as the supercharger has taken the battery space in front.
This car come with run flat tyres as there are no space for spare tyre.
Double exhaust.
MINI Cooper S did not have much changes from pre-facelift to facelift, it did not change as dramatically as the One and Cooper during July 2004 updates. The differences for Cooper S pre-facelift and facelift that can be spotted by professional "MINI eye" are the grille surround as well as the lights. Mini Cooper R53 facelift has received a small power boost and the gear ratios have been revised during July 2004 changes. Also, the Cooper S is available in Mini Convertible model.
Mini Cooper S Pre-facelift R53 (2002 – 2004)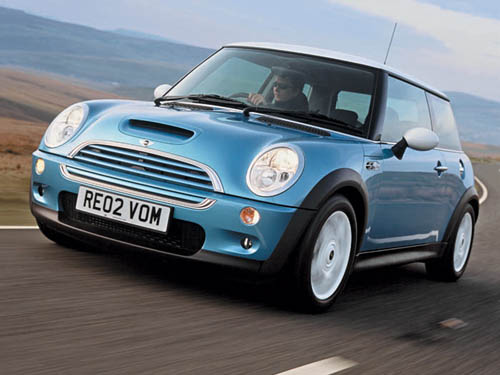 More details and photos: Yellow Mini Cooper S R53
Mini Cooper S Facelift R53 (2004 – 2006)
Note that the grille surround, headlights, and rear lights was changed and different from the pre-facelift model.

Mini Cooper S R53 – General information

Model:
Mini Cooper S
Year:
2002 – 2006
Category:
Powerfull sports car

Main features, safety and ecconomy

Engine size:
1598 ccm (97.51 cubic inches)
Fuel type:
Gasoline, unleaded 95 (see also Gasoline
Price History)
Fuel city driving:
9.4 litres/100 km (25.00 miles per gallon)
Fuel mixed driving:
8.4 litres/100 km (28.00 miles per gallon)
Fuel highway driving:
7.4 litres/100 km (32.00 miles per gallon)
Seats:
5
Drive:
Front wheels
Transmission:
Manual, 6-speed
Airbags:
6. Front airbags. Optional side air bags.

Engine and transmission

Engine location:
Front, transverse
Displacement:
1598 ccm (97.51 cubic inches)
Engine type:
Inline, 4 cylinder
Max power:
170.7 PS (126 kW or 168 HP) at 6000 Rev. per min.
Max torque:
210.00 Nm (21.4 kgf-m or 154.9 ft.lbs) at 4000 Rev. per min.
Compression:
8.3:1
Bore x stroke:
77.0 x 85.8 mm (3.0 x 3.4 inches)
Fuel system:
Injection
Valves per cylinder:
4
Fuel control:
Overhead cam (OHC)
Cooling system:
Liquid
Gearbox:
Manual, 6-speed

Speed and acceleration

Top speed:
218.0 km/h (135.5 mph)
0-100 km/h (0-62 mph):
7.4 seconds
Power/weight ratio:
0.1407 PS/kg

Exterior and interior

Chassis type:
Hatchback
Max no. of doors:
2
Leg room front:
1060 mm (41.7 inches)
Passenger space:
2180 litres (576 gallons)
Cargo space:
150 litres (40 gallons)
Optional cargo space:
670 litres (177 gallons)
Aerodynamic dragcoefisient:
0.3

Steering, brakes and tires

Turn circle:
11 m (448.8 inches)
Front brakes:
Ventilated disks
Rear brakes:
Disks
Brake details:
Antiblocking system (ABS). ABS ABS
Front tire dimensions:
195/55R16V
Rear tire dimensions:
195/55R16V
Front suspension:
Independent
Rear suspension:
Independent

Dimensions and weight

Weight:
1215 kg (2,678.6 pounds)
Max weight with load:
1570 kg (3,461.3 pounds)
Towing weight:
650 kg (1,433.0 pounds)
Overall length:
3660 mm (144.1 inches)
Overall width:
1690 mm (66.5 inches)
Overall height:
1420 mm (55.9 inches)
Ground clearance:
130 mm (5.1 inches)
Wheelbase:
2470 mm (97.2 inches)
Fuel capacity:
50.0 litres (13.21 gallons)

Price

Aprox price as new USD:
20940
Aprox price as new EUR:
20430
advertisements

If you love this article, please PLUS it!