Mini Cooper Gathering 19 July 2009 in Malaysia
advertisements

July 19 2009, a lovely day in Cheras, Kuala Lumpur Malaysia. Malaysia Mini Club has organized a huge gathering in conjunction with the "17th Ampang Jaya car show" in Kampung Pandan Cheras, Malaysia. There are 150 classics Mini and 3 BMW MINI joined this gathering and brought a lot of colors for the day.
Minis from the rare MKI, MKII, MKIII some 1275GTs to the new BMW Minis and of course the Mini Moke, MKI Cooper S, Cooper, pick-up, clubman estate, Riley Elf, Wolseley Hornet and wagon was present too. Other than that, some limited edition 90s Mini line up nicely to add more colors to the gathering. These Minis are such as the MK6 1994 Mini Cooper Monte Carlo, 1995 Mini Sidewalk as well as 1996 Mini Cooper 35 anniversary. There is also a MK7 1998 Mini Paul Smith LE in blue color to light up the event. Prizes and lucky draw also given to Mini owners during the end of the event.
All the cute little Mini cars line up around 300meters in a line, models from 1962 to 1999. This event again has really burn up the Mini lovers' heart after Mini Gathering 09 January 2009 in Malaysia and it has successfully light up the coming bigger Mini 50th Anniversary at Dataran Shah Alam Selangor, Malaysia on the 8th And 9th Aug 2009.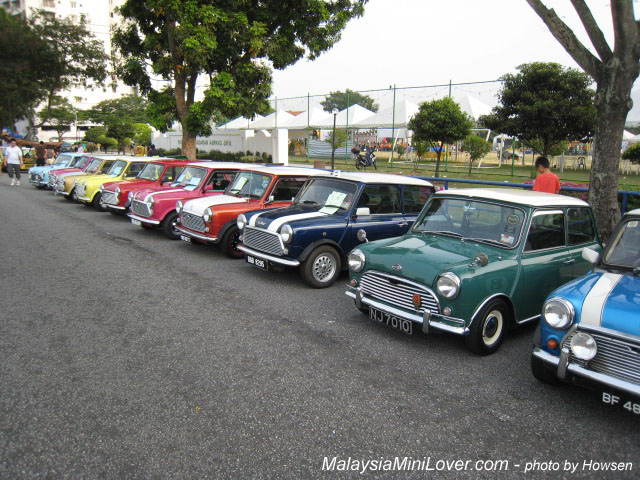 The next event will definitely have lots of fun activities line up for all Mini lovers. The event has included 1 restored Mini classic 1000 to be raffled off. Funds collected will go towards charity. Therefore, make a date with your mini and come join the fun.
To know more about future Mini Cooper events or gathering or "the tarik" tea session, please check out this link often: Mini Cooper Gathering
(click on the image to enlarge it)
written by Howsen, a member of Malaysia Mini Lover
advertisements

If you love this article, please PLUS it!