Mini Cooper Creative Ads around the world
advertisements

As we all know, the new BMW Mini Cooper has bring a lot of fun not just in driving, but in advertising as well. Just like Lingerie-Themed Mini Clubman been rated as 10 Most Outrageous Paint Jobs of 2008. Mini Cooper advertisement has become as creative as it could be around the world, BMW dealer in each country is trying to make the advertisement as attractive as it could be, let's see what's going on to the Mini.
Here you can see the creative advertisement by Mini Cooper placed at the train station in Zurich, Switzerland. This advertisement gives the perception that the Mini Cooper is a spacious car which can cope in a lot of passenger. The advertisement shows people climbing into or out of the car, when they are actually entering or exiting stairs.
Usually we go to "Toys r us" to buy a Mini Cooper die-cast model and put in plastic bag then bring it home, but this box of Mini Cooper which selling $98,000 we can't do that.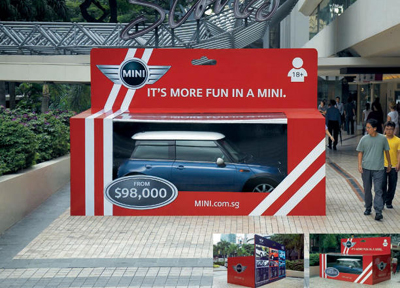 So, what are you doing for fun this weekend? Fun in a Mini Cooper?
In America, the ads for Mini Cooper showing a man jump down from a building to sit in the Cabriolet Mini Cooper, may be the ads show the man want to get a Mini same as Britney Spears?
Please do not feed, tease, or annoy the MINI!
There is a Mini Coopers ad all across Canada Men's washroom of MINI retailers! The ads show each urinal was turned into a mini slalom course using 3D pylons and the copy challenged patrons to test their handling skills (It means the handling of pee for men 🙂 both in the washroom and in a MINI test drive. This ad more emphasize on "Can you handle it?" haha.
COPS HIDE HERE! MINI hide there! So coincidence a Mini Cooper S passed by when this picture was taken.
Hi Kate, Nice day for your convertible, do you wanna go for a date?
A Mini Cooper S hang like a cable car on top of a car park, is'nt it catch your eye?
There is a very creative Mini Cooper print ads in a magazine. "Reads: Let's take it off. Let's take it all off". This is a magazine with a printed wrap. When you remove the wrap, so does the cover of the mini cooper will be removed together, what a fun print ads!
Transformer, the optimus prime! Mini Cooper Transformer!
This Mini ads fully utilizes both billboard advertising and wallscapes, it shows a Mini Cooper S "drifting" and avoiding the snowman, driving extremely fun!
There is a Mini was placed in a building in Yaletown which is an area of downtown Vancouver.
Mini Cooper has bring a lot of fun not just in driving, but in advertising, so have you got your own idea to advertise it for your own business?
advertisements

If you love this article, please PLUS it!