Light Blue, Two-Seater Classic Mini Roadster
advertisements

The light blue, two-seater classic Mini roadster we are going to share here is definitely a rare germ. You don't often see this kind of customized Mini on the road. It is even hardly seen on any Mini events or gathering because there is only one on this planet. If you own a classic Mini Cooper and decided to do something different from other Mini owners, this is one you can refer to.
Started with a MK1 Mini front grill, the front view of this car somehow looks a little "classic" because MK1 Mini is only available from 1959 until 1967. The owner of this light blue Mini roadster selected a blue color Mini Cooper fly wing emblem in order to match the car color. A pair of Lucas head lamps and a pair of glass-type signal lamps are also fitter to the car.
A set of stainless steel wiper kit and windscreen chrome fillet are also fitted to the car. However, there is only 1 set of windscreen chrome fillet is used because there is no rear window as it is a Roadster! As for the side mirror, the owner of this car selected the standard stainless steel bullet type mirror. Isn't it looks like bullet on both side?
A view from the side, custom rear lights, custom rear signal lights, stainless steel door handle scoops, 7 x 13 Minilight Deep Dish polished wheel, custom side skirt body kit, and custom sticker written ROADSTER are what you see. This is how you should customize your own car if you want it to be cool.
Here comes the ass of the car. The owner fitted the fuel tank nicely with an Aston chrome fuel cap. The two N-shape chrome bars is one of the most eye-catching things on the car too. Other than that, we really need to give a LIKE to the person who builds the body especially the ass. It is so silky smooth and looks exactly like the Austin 8 in 1930s.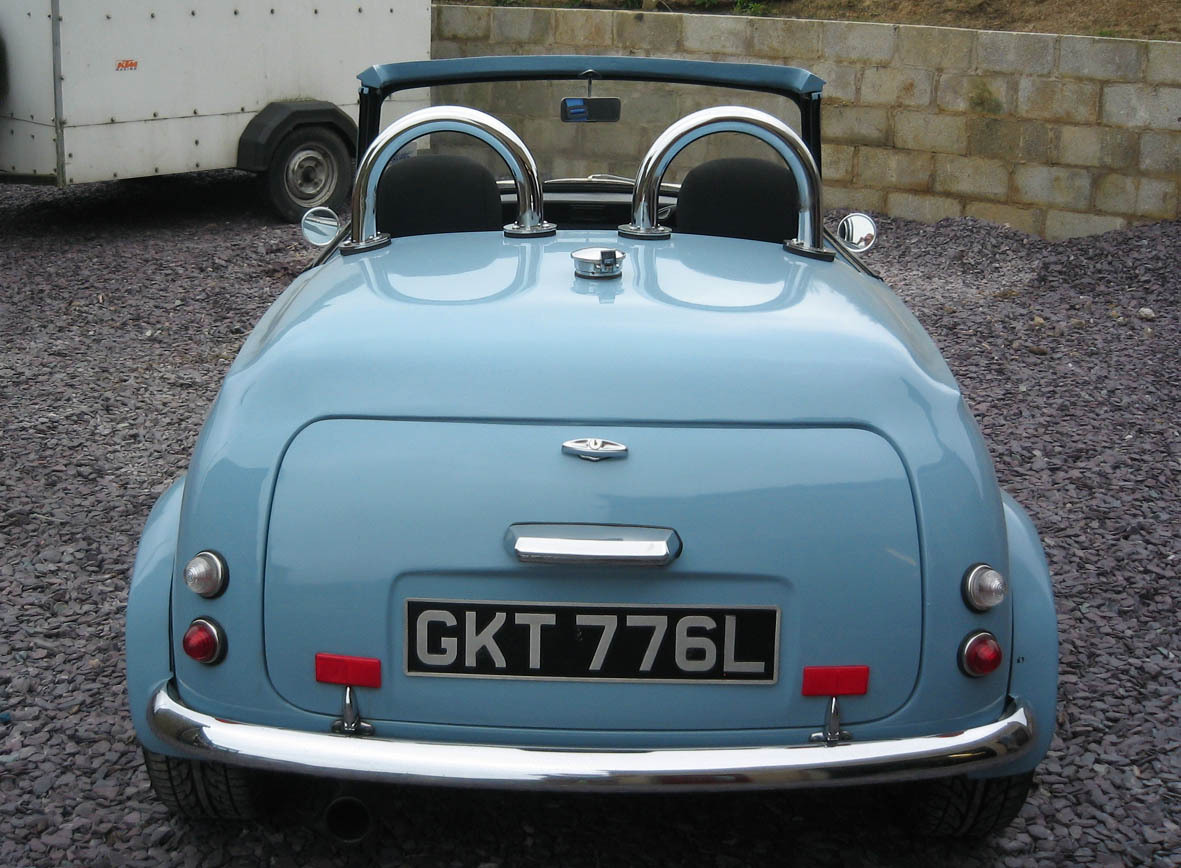 The interior door panel is also wrapped with blue leather as well as fitted with a set of 10 pieces alloy door handle set. It looks different from the black plastic type, yay or nay?
Well, the hardest part of this Mini Roadster is nothing but the work to remove the roof. If you have seen the 1998 Rover Mini Mayfair we posted before, you should notice from the image here that the door is not completely frameless.
Well, this light blue Mini Roadster is definitely one of its kind. Lastly, you should check out MalaysiaMiniLover's Austin Mini page for more customized Mini Coopers, unique Austin Cooper, special Morris Mini Cooper, or any Mini cars.
advertisements

If you love this article, please PLUS it!