Frankfurt: Three Luxury Diminutive Electric Cars from Audi, BMW, and Mercedes-Benz
advertisements

As usual, one of the world's largest motor shows the Frankfurt Motor Show has attracted thousands of visitors. This year, the 2011 Frankfurt Motor Show will be held from September 15 to September 25. Many car makers are showing off their best to visitors. Since the Auto Show is held inGermany and it is biennial, the top three German luxury car makers did show something different this year. They are prepared to roll out all-electric cars from 2013.
Audi A2

Start with the Audi, Frankfurt visitors stand a chance to see the Audi A2 features an aluminum body like its trend-setting forerunner. With 2+2 seat matrix, B-segment body dimensions, semi-autonomous driving capabilities, on-board internet access, laser gof lights that can project an image onto the road surface, and a clean yet premium look. These are all the features that we had never experience before in any gasoline-powered car. Therefore, the A2 is arguably more interesting than other Audi's electric car.
BMW i3

It comes no surprise that BMW has introduced an all-electric car, the BMW i3. The futuristic all-electric car features carbon-fiber body. This is to reduce the total weight of the car because additional weight comes from the lithium-ion batteries. It only takes 6 hours for a full charge from a normal power outlet which is less than the Nissan Leaf. The vehicle's range is 100 miles on one charge which is similar to the Nissan Leaf. Good news is, the i3 is expected to roll off its production in the year of 2013 with realistic retail prices.
Mercedes-Benz B-Class E-Cell Plus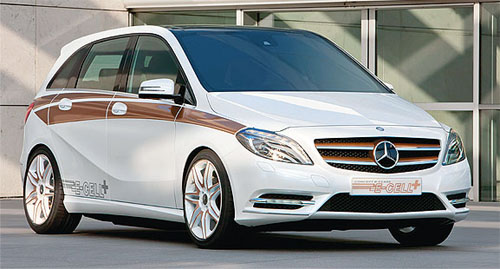 As one of the top three luxury car makers in Germany, Mercedes-Benz riposte with its existing B-class to B-Class E-Cell Plus. Although it is just going into second generations, everything in the B-class has been fast-forwarded to its best. The Mercedes-Benz B-Class E-Cell Plus is different with what Audi and BMW presents because it is an extended range electric vehicle. The lithium-ion batteries in the car are said to provide a range of up to 62 miles and the car is capable to hit the top speeds of 93 mph. When the car batteries are drained, the car will be entering "range extender" mode, giving it a total range of up to 372 miles, which is pretty much of what consumers need today when the gasoline price is keep on raising.
advertisements

If you love this article, please PLUS it!