Ford fuse panel diagrams
advertisements

Here you can download free Ford fuse panel diagrams for most of the Ford cars. The Fuse panel diagrams mainly show 18 fuses that runs the basic functions of the car such as the lamps, wiper, air-conditioning, air bag, radio, horn, and among others. The diagram here is pretty easy to understand with cavity number. This is just the basic fuse panel diagrams for most of the Ford cars, you will have to find out the correct diagram according to the model year of your car.
The easiest and simplest way to trace any fault fuse is to check the problem with the diagram. For example, if your radio is not working or the speaker without any sound, remove fuse 11 and see if it is burned. Check fuse 14 if the power windows is not working or check fuse 16 according to the Ford fuse panel diagrams here if the horn is not functioning.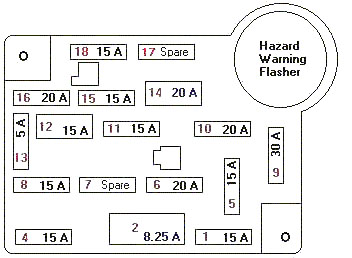 1 = Stop lamps, Hazard warning lamps, speed control, third brake lamp.
2 = Windshield wiper/washer, interval wiper (circuit breaker)
4 = Headlamps, tail lamps, parking lamps, side marker lamps, instrument cluster illumination lamps, license plate lamps.
5 = Turn signal lamps, back-up lamps, low fluid module, heated backlite relay.
6= A/C Cluth, trunk lid release, convertible top, speed control module, radio (Day/Night illumination), rear window defroster.
7 = Spare fuse.
8 = Courtesy lamps, key warning chime, fuel filler door, glove box lamp, engine light, clock, power window.
9 = A/C & Heater blower motor.
10 = Flash to pass (passing beam), low oil level indicator.
11 = Radio, premium sound, graphic equalizer.
12 = Air bag system (90-93)
13 = Instrument cluster illumination, ISO symbols.
14 = Power windows (circuit breaker)
15 = Fog lamps.
16 = Horn, Cigar lighter.
17 = Spare.
18 = Seat belt chime, warning indicators, carburetor circuits, tachometer, low fluids warning, idle tracking air control, restart choke control, cooling fan/compressor clutch control.
Fuse Ampere (Amp)
14 Amp – Charging circuit.
16 Amp – Lamp feed, ignition feed, heated blacklite.
18 Amp – Electric fuel pump
20 Amp – Electric cooling fan, EEC Module Feed, EEC Solenoids.
The fuse panel here is an example from Ford Mustang. It is recommended to check the diagram properly according to the model year of your car although it may be the same. Find out more Ford fuse panel diagrams for Ford Ranger, Ford Explorer, Ford F150, Ford F250, and among others.
advertisements

If you love this article, please PLUS it!