Ford Flex Crossover
advertisements

Ford Flex Crossover unveiled at 2005 according to Ford Motor Company timeline and the sales of the car began in 2008 as 2009 model year. The brand new styling Flex Crossover is different from Ford Western Hauler, some SUV features have derived to the Flex and currently it is only sold in US, Canada and some place in the Middle East.
Ford Flex is 5 doors seven-seater CUV (Crossover Utility Vehicle) that come with adjustable and removable footrests for second row passenger. Well, if you are looking for a 3 doors car, Ford Focusmay be one of your choices.

Performance, design and detail of the car:
3.5L V6 engine
Produces 262 bhp (195kW)
6-speed 6F automatic transmission
Towing capacity is 2000kg/4500lb (this is different from the Ford F150)
All wheel drive system
Base on Ford Fairlane concept
Estimated price:

$28,550

Ford Flex contains Ford's signature chrome horizontal 3 bar grille design which is a new fresh design to the market nowadays.
Available roof color is either in white, silver, or body-colored.
Optional "Mini-fridge" in the middle console mounted between the second row seats.
Ford Sync available to this car which is the voice-activated communications and entertainment system which appear in the Ford edge commercial song.
Navigation systems. That was developed in collaboration with Microsoft.
What we would to say is Ford flex crossover has the world class interior, and it turns heads everywhere it goes, but will the Flex's style, capability, and performance meet the requirement of what CUV market want nowadays? We believe Ford has finally made it.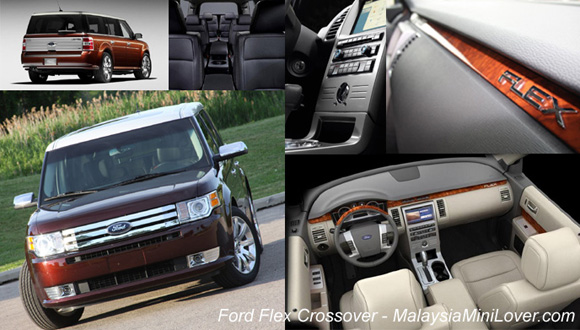 advertisements

If you love this article, please PLUS it!