Ford Electric Car
advertisements

As the world go greener, Ford electric car is getting more demand and more common. Ford had introduced more and more electric cars at the recent Geneva Auto Show rather than the Ford Think electric car. Ford Motor Company unveiled its modern electric debut at the Consumer Electronics Show in Las Vegas, the Ford Focus electric car.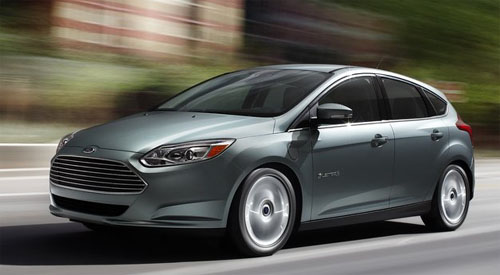 The Ford Focus has been one of the top selling Ford cars since the last decade until today. It makes a lot of great sense that Ford has chosen the Focus to be first few electric cars to represent this long-history brand.
Ford Focus Electric Car
Ford Focus Electric car or Ford Focus BEV was first debut at the 2009 Frankfurt Motor Show. The production is planned for summer of 2011 and will be available for sale in the United States market by late 2011 and in Europe by 2012. The Ford Focus Electric outlook is more or less same with the gasoline powered Focus. It is a five door hatchback but it is 100% powered by electric using the electric engine by Magna International.
The Focus Electric uses a 23 kWh, liquid-cooled lithium-ion battery pack and it gives the rage of 100 miles (160 km) on a charge which is considered quite reasonable. It takes around 3 to 4 hours for a full charge. Most important is, the Ford electric car only require few cents for every charge. See also: Advantages of electric car and Electric Car Batteries.
Unlike the Nissan Leaf or Chevrolet Volt, what makes the Ford electric car special is some of the very unique and only one of its kind features in the electric car. It can drive up to 100 miles on a full charge, it can communicates with smart phones and make the car like a mobile office while the driver is stuck in traffic jam.
Remember that back in 1914, more than a decade after Henry Ford first car was built, Henry Ford's wife drove an electric car on the street. Today, their great grandson Bill Ford will drive a Ford electric car again on the road after almost 100 years.
advertisements

If you love this article, please PLUS it!