Exotic replica cars
advertisements

Here is your tasty A-list of exotic replica cars for sales, super exotic sports cars wallpapers, and many others attractive cool replica cars pictures. If buying any new or used exotic cars seems too expensive, there is always another option. The option is to go for replica cars. Replica cars can be in kit cars form or use any cheaper car as base car, then reproduce it to any exotic cars you wish in cheaper price.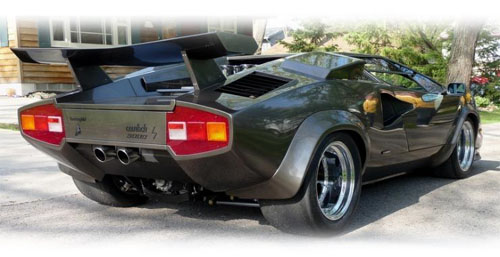 There are many types of replica cars available in the market today from antique cars to exotic cars which has included:
Dodge Viper
Ferrari – Enzo, F355, F360, 430 Spider, Modena, Testarossa.
Ford Coupe
Lamborghini – The famous one usually is the Countach, Reventon Roadster, Diablo, Murcielago, Gallardo. (see Lamborghini kit cars

)

Mercedes Benz
Mini replica cars
Muscle cars
Porsche replica cars – Famous replicas are such as the Boxster, 911, 914, Carrera GT.
Shelby Cobra replica (see Cobra kit cars)
VW replica kit cars (see VW kit cars) that able to reproduce a Porsche 550 Spyder by using the classic VW Beetle as based car.
If you want to get a cheap car as a base car to build any exotic replica cars, why not try out:
Can you imagine getting these exotic look replica cars for just few hundred dollars to couple thousand dollars?

A smaller size of Lamborghini with bike handle? Creative isn't?


The famous Ferrari Testarossa!

In conclusion, replica cars has got no standard and no restriction, you can do whatever you want or design it to any look that you prefer and create any kind of exotic replica cars.

advertisements

If you love this article, please PLUS it!