Elfin Sports Cars
advertisements

You are not a real sports cars lover until you know Elfin Sports Cars. This Australian car brand is just so wonderful to bring us many noteworthy sports cars until today.
Elfin Sports Cars was founded in 1957 by Garrie Cooper who is also a championship driver and sports cars designer. The company mainly manufactures sports cars and participates in many motor racing. Elfin have won many championships and major Grand Prix titles throughout the decades.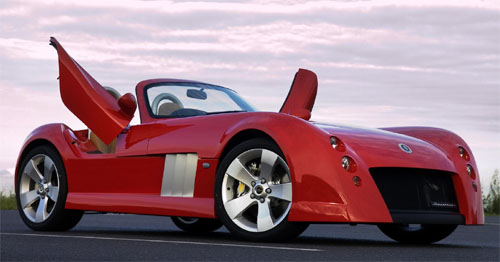 There are several notable Elfin sports cars were built since the '50s. Some early Elfin models are Steamliner, Formula Junior, Clubman, Mallala, Type 100 Mono, Formula Vee, Type 400, Type 300, Type 350, ME5, as well as Type 360.
In '70s, we saw the birth of Elfin MR5, 620 FF, 622, 623, MR6, MS7, 630, 700, MR8, NG Formula Vee, 792, Aero FF, GE Two-25, and MR9 throughout the '80s. However, all these Elfin models are limited for sales and it is estimated less than 200 surviving today.
Elfin headquarters is currently located at Melbourne, Australia. There is a heritage centre located in Melbourne where you can see around 12 current and historic Elfin vehicles on display.
Elfin MS8 Streamliner
Elfin MS8 Streamliner is the successor of the 1974 MS7. The MS8 Streamliner is powered by a 5.7L V8 engine. Top speed of the car goes 171 mph (275 km/h) with the acceleration from 0 – 62 mph in just 4.5 seconds. First introduced in 2004 as 2006 model year and available for sale until today at the price tag $119,990.
Elfin MS8 Clubman
Elfin MS8 Clubman is another option to MS8 Streamliner. It shares the same engine with the Streamliner, same top speed but one second faster for acceleration from 0 – 62 mph in 4.4 seconds. The Clubman is for sale at $98,990. Both productions is limited to 100 cars per year.
Hero of Elfin and also founder Garrie Cooper died in 1982. He suffered a broken leg in high speed crash while driving his own Elfin MR8 in the 1978 Australian Grand Prix. After his death, the company built some historic Elfin vehicles which know as the post Garrie Cooper era. Some of the notable models are the Elfin FF84, Elfin Crusader, Elfin 852, Elfin FA891, as well as the Elfin Type 3 Clubman which production from 1998-2007. In a nutshell, if you love sports cars, racing cars, or cool cars, you must check out Elfin sports cars.
advertisements

If you love this article, please PLUS it!