Electric Car Mendomotive
advertisements


Electric Car Mendomotive was a famous company back in the mid 90's that specially build electric cars from common cars and also convert gasoline cars into electric cars. The company founder Stephen Heckeroth who is an enthusiast to build and convert gasoline car into electric cars to save the environment as well as help out people to save cost. How scary the gas price compared to the 80's if you check out the gasoline price history.
Back in 1990, California Zero Emission Mandate fueled an electric vehicle Rennaisance. Electrc Car Mondomotive became the prospect of mandated electric car sales in 1998 which everyone thought that will be a big change in automobile industry. The company has successfully converted a 1963 Volkswagen Type 34 Karman Ghia, a Volkswagen Vanagon, a Pontiac Fiero, and produced 4 electric Porche Spyders between the year 1992 and 1994. A total number of 7 electric cars were produced by Mendomotive and surprisingly these cars used the inexpensive DC technology.
In 1995, the automobile industry and the oil companies spent $30million to turn public judgment against electric cars and push back the Mandate to 2003 even though the sales projections were good for that year. The company is really having a great concept back in the mid 90's, but the time gasoline still play an important role to support most of the countries' economy. If the company appears today, the story might end different as you see most of the automobile maker now had introduced a lot of Hybrid cars.
Sadly, the electric cars are no longer built at Stephen Heckeroth. One of the car mentioned above, the 1963 Karman Ghia in green color, is still used daily by the Heckeroth family in California town. However, there are still a lot of electric car conversion kit available for sale in the market to help people who interested to convert their car to electric-powered.
1963 Volkswagen Type 34 Karman Ghia electric car specification
Motor: 20 hp Advanced DC 9″ (US$1200)
Drivetrain: Stock Type 3 VW
Controller: Zapi HFM 400 amp with regenerative braking ($1200 from Italy)
Batteries: (24) US 125 6V – golf cart batteries ($960)
System Voltage: 144V DC output
Charger: Zivan 110V AC 12A input ($700 from Italy)
Heater: none
DC/DC Converter: Todd 30A
Instrumentation: E-Meter, analog amp meter ($35), digital amp hour 12VDC meter ac as gas gauge ($200)
Top Speed: 80+ mph
Range: 65-75 miles (105-120 kilometers)
Seating Capacity: 2
Curb Weight: approx. 3500 lbs.
Tires: Michelin X LRR rear, Jupiter front
The electric Ghia can produce 60 hp for acceleration and hill climbing which is more power than the original gas version. It takes 8 hours full charge from any 20 amp 110V outlet. In a nutshell: Complete rewiring of entire vehicle, with virtually every circuit replaced with new wire, was required. All new fuse boxes and inline fuses were installed. All wires were labeled and placed in plastic conduit. Every braking system part was replaced. New shocks and wheels and tires were installed. The entire clutch assembly was re-engineered, the transmission and drive axles were replaced with remanufactured units. All interior components including window crank assemblies, door seals, steering column, seating, and instrumentation were doctored appropriately. What a great acceptable performance for an electric car with the cool Ghia outlook, can I convert a classic Mini Cooper to electric powered? May be can try with cars under 1000 dollars? Anyway, Stephen Heckeroth's website can be found at www.renewables.com. In a nutshell, it is sad that we lost Electric Car Mendomotive.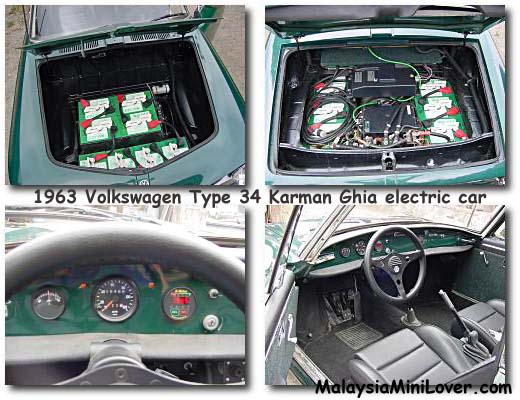 advertisements

If you love this article, please PLUS it!