Eco friendly cars
advertisements

Here are your delicious top 10 eco friendly cars for all eco cars from 2000 and above. Eco cars getting more user-friendly and common since Toyota officially released the Prius Hybrid in 2000. More and more eco cars went into mass production later on due to the limitation of crude oil and the purpose to save the world.
According to the history of hybrid cars, the first hybrid car was built by Dr. Ferdinand Porsche which is a car powered by gasoline and electric. Until today, we can see tons of eco friendly hybrid cars on the road. Here we listed out the top 10 most eco friendly cars based on the combined mpg the car give.
1. Toyota Prius Hybrid
First introduced in 2000, the Toyota Prius is a hybrid sedan that gives 50 mpg. With the price tag at just $22,400, it is the number one selling hybrid car.
2. Honda Civic Hybrid
It is hardly find another sedan that drive so comfortable like the Civic Hybrid. The Civic hybrid gives 42 combined mpg on town drive and the selling price is at $22,600. It is one of the most fuel-efficient cars with cool sleek design.
3. Honda Insight Hybrid
Honda Insight Hybrid is another full size sedan that makes the record at 41 mpg. With the price tag at $27,300, it ranked number 3.
4. Chevrolet Volt 230
The Chevy Volt is one of the coolest eco cars and it is said to give 230 mpg in city drive! The car run completely on electric power for first 40 miles and it automatically turn to gasoline power once the electric is finished. What you need to pay for the cool exotic outlook is $40,000.
5. Ford Fusion Hybird
The Fusion was released by Ford in 2009 as a full size sedan hybrid car. It achieves 39 mpg with the selling price at $27,300.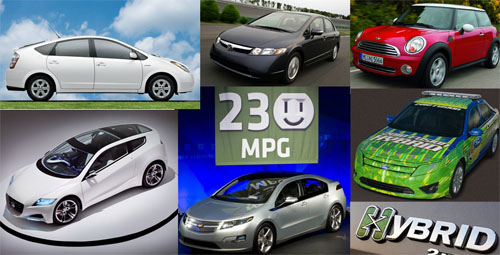 6. Mercury Milan Hybrid
Another hybrid car that gives 39 mpg and the selling price is $200 more than the Fusion at $27,500. The Mercury Milan is the relative to the Fusion. The Hybrid Milan save up to 50% of fuel compared to non-hybrid Milan.
7. Honda CR-Z Hybrid
It's a very sporty version of hybrid cars produced by Honda. Price of this robot-look hybrid car started from $19,200 that achieves 37 mpg. This is definitely the car for people who look for cool cars.
8. Smart ForTwo
Although the safety of the Smart ForTwo is not 100% satisfy. This cute little car are very relatively fuel efficient at 36 mpg at the price from $12,000.
9. Mini Cooper
Here comes the car that has more than 50 years history, the Mini Cooper. This small coupe car beats efficiency of all other subcompacts and with more style on it. It achieves 35 mpg and the price is started from $18,000.
10. Volkswagen Jetta TDI
The Volkswagen Jetta TDI which runs on diesel has the same mileage with the Mini Cooper at 35 mpg. The Jetta offers 140 hp and achieve up to 40 mpg on highway.
In conclusion, top 10 could never enough to give praise to some other good car. There are some other cars that have good mpg too. Among these cars are Audi A3 TDI, Toyota Camry Hybrid, Lexus HS 250H, Ford Escape Hybrid, and many more. Hybrid cars are really saving the world from pollution and a big clap should give for all these cool cars.
advertisements

If you love this article, please PLUS it!