Cartoon drawings of cars
advertisements


Cartoon drawings of cars are something wonderful no matter for an adult or for a kids. Remember the fantastic teaching on how to draw a nice cartoon car in the previous post "cartoon cars drawn"? The 2 teaching examples and 3 wonderful given tips has brought quite a number of MalaysiaMiniLover readers send us their drawing, and it is really nice. Therefore we are here again to share more cartoon car drawings.
Well, it is good to let kids learn on how to draw cartoon cars before learning to drive a car. This is because they can learn the basic structure of a car such as the chassis, wheels, car body, car door, windows…etc through the drawing. Let's begin with some simple yet cool drawing!
How to draw cartoon cars
Drawing a cartoon car can be as creative as you can, it doesn't have to be so strict like muscle car drawings because a cartoon car can look as cartoon as it is but muscle car has to be look like the model. You can even draw a smiley face on the front end of the car. Here we start to draw a classic cabriolet cartoon car. Check out some of these cartoon cars related information before begin step 1:
1. Cartoon cars drawn– 9 detail steps, 3 special tips to draw cartoon cars
2. Cartoon car sketches– Fun and creative sketches
3. How to draw cartoon cars– 5 cute and easy steps to draw cartoon cars
4. Muscle car drawings– 5 coolest steps to draw muscle cars
5. Muscle car cartoons– The drawing art of muscle cars
6. Step by step drawing cars– A real step by step drawing cars technique
7. How to draw cars– Some tips on how to draw nice cars
8. Draw simple cars– Some simple technique to draw simple cars
9. Draw cool cars– Drawing nothing but cool cars
10. Cartoon cars clipart– Some fun and cute clipart
11. Pencil drawings car– As simple as some pencil car drawings
12. Cartoon car art – All art of cartoon cars
Step 1 – Sketch out the car body
Sketch out the car body or outline with thin line and make it darker when you have confirmed the shape. Do not have to draw the roof as this is the cabriolet car. If you want to draw a Mini, you can check out the classic Mini car body parts before you begin your drawing.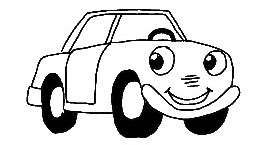 Step 2 – Add more body work
Add more body work such as wheel arches where you prepare to draw the cool rims later. You can customize your own car by drawing a bigger arch if you plan to make your drawing a cartoon pimped out cars!
Step 3 – Draw the cool wheels and bumper
Here you can see more tricked out cars picture, get more ideas about how a cool wheels is, and then you can draw a better wheels. Steps in picture here show how to draw simplest wheels by drawing some dot as the tires and 2 ovals as the wheels cap.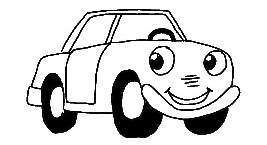 Step 4 – Draw the main window and steering
Well, cartoon car always look cuter when it comes with a steering. It is just a simple step by drawing 2 semi-ovals which like an "n" alphabet.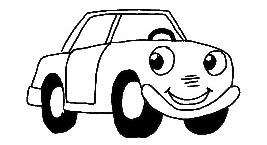 Step 5 – Cars accessories
Now you can complete the car by adding the front grill, headlamps (just draw 2 circle will do), and side mirror. Alternatively, you can also add some extra lines to make the like sweet cars. So, have you finish learn cartoon drawings of cars?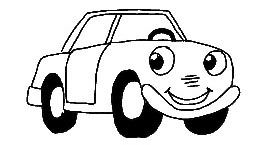 advertisements

If you love this article, please PLUS it!