Buick Cars
advertisements

As one of the four majors North American brands from GM cars. Buick cars has something unique that makes the brand accept by the market for more than a century.
Buick is one of the oldest automobile manufacturers in America as well as in the world. The company was founded in May 19, 1903 by David Dunbar Buick. Throughout the century, it is now a famous car brand sold by General Motors (GM).
Buick Logo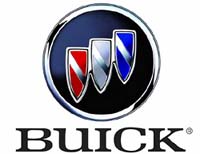 The first Buick car on sale to the public was the 1904 Buick Model B. The Model B had a two-cylinder engine with a fashion-forward cylinder head design. Few years later in 1907, Buick introduced its first four-cylinder car, the Model D.
In 1908, Buick was bought by GM. GM tends to make the brand as world's luxury car. In 1914, all Buick cars were built with six-cylinder engines and the brand only target upper-class people. At that time, Buick's nickname was "doctor's cars" due to their target market. Throughout the time, Buick continues to build more and more luxury yet reliable cars.
Buick Cars History and Significant Models
Buick Lacrosse (2005 – present) –

A significant four-door sedan car manufactured by Buick.

Buick Enclave (2008 – present) –

This will be your choice if you are looking for a full-size crossover SUV.

Buick Lucerne (2006 – present) –

It is the son of Buick Park Avenue and Buick LeSabre.

Buick Rendezvous (2002 – 2007) –

It is always one of the best SUV although the production has ceased and continue with Buick Enclave.

Buick Regal (1973 – 2004, 2011 – ) –

The market still love Buick Regal. In 1982, Buick debuted the Buick Grand National and the car had won the Manufacturers Cup in 1981 & 1982.

Buick Riviera (1963 – 1999) –

Well, the Riviera always one of the best personal luxury car during 1960s to 1990s.

Buick LeSabre (1959 – 2005) –

A total number of eight generations were introduced to the market. The Buick LeSabre is also one of the longest living vehicle in the planet since 50s.

Buick Verano (2012 – )
Buick models are too many to count since the first cars debuted in 1904. Other than the few significant Buick models listed above, there are many other cars that are highly demand by the market such as the Buick Roadmaster, 1965 Buick Riviera, Buick Skylark (one of most wanted muscle cars), Buick Reatta, Buick Century, Buick Wildcat, and among others.
Today, Buick's lineup from passenger cars to crossover SUVs targeting youngsters and luxury car lovers. You can also log on to Buick.com to check out the latest details about Buick cars. The slogan, Buick, Drive Beautiful.
advertisements

If you love this article, please PLUS it!