BMW MINI launched a social network website
advertisements

BMW MINI Middle East has launched a social network website which actually has nothing to do with any BMW MINI Cooper or cars! What does BMW stand for? The BMW stands for Bayerische Motoren Werke. The MINIspace.com is a virtual gallery and a social network blog. It did not have any idea came from the MINI car regardless of BMW Mini One or the MINI Cooper S R56. The website is said that it is a clever use of space, tiny outside roomy inside. So it is all about creative use of space. Angelina is going to bring you explore to this BMW MINI website!
BMW MINI

 
MINIspace.com is a new international website by MINI, the brand that redefined small car design. In line with MINI's design philosophy, any mini models, the website provides an inspiring framework for like-minded people to share and celebrate their creativity via competitions, projects, parties and events.
BMW MINI launched a social network website

Creative of the Middle East can unite in the latest MINI venture, conceived to showcase unsung design talent. The site's theme, 'Creative Use of Space', is a gentle nod to the MINI, a car originally designed to make the most of limited space. Most of the design appear in the website are BMW MINI, very little chance we can see the classic Mini MK1, Mini MK2 or Mini MK3. This creative community is worldwide, members have a chance to join in projects and meet others who are equally enthused about handling 'space' in imaginative and unconventional way.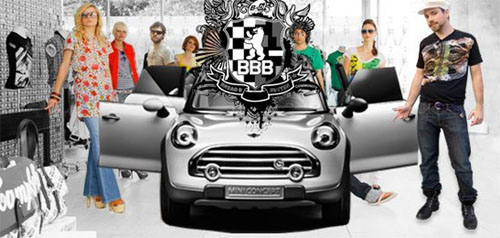 By looking at Mini Cooper Creative Ads around the world, we know that MINI itself is a uniquely creative car, there are so many creative work can be done to MINI. This include the "MINI Cooper World Record – Long Live The King" held in Thailand last few year. It has never been so much done in a so small car, by just look at Malaysia's record "No sweat for 21 who crammed into a Mini Cooper".
Sarah Klippert, MINI Manager of BMW Group Middle East, said:
'MINI has always been an intelligent brand that opens its doors to the very notion of using space more creatively. A majority of the MINIspace.com competitions and projects are open to an international audience, and provide an excellent platform for creative people in the region to network with design-focused people and share ideas online. The potential for members' work to reach a global audience is very high and will help demonstrate just how much talent there is in the Middle East.'
BMW MINI
MINIspace.com competitions persuade members to submit designs, photographs and graphics (Mini Cooper Wallpaper) that utilize any space creatively. Winning competition entrants are given an opportunity to exhibit their works and gain international exposure. Some of the design shows in the website has got the classic Mini MK6 and Mini MK7. Some designs have even been featured on touring MINI vehicles, as was the case with the most recent 'MINI Shuttle Design Competition'.
A MINI Airstream designed by Republic of Fritz Hansen – Mini Convertible R52 video
MINIspace.com also offers tickets to parties, exhibitions and events around the world that can be won by entering design critiques on a wide range of subjects from the environment to architecture. 
So, do you feel like you want to prepare your MINI work and submit to MINISpace now?
– MINISpace –




advertisements

If you love this article, please PLUS it!