AMC Cars
advertisements

Well, if mention about AMC cars many of us will think about their famous muscle cars and one of the most successful subcompact, the AMC Gremlin.
In 1954, Nash-Kelvintor Corporation and a well-known car manufacturer Hudson Motor Car Company merged and formed American Motors Corporation (AMC). The merger was the largest in America history at that time. Soon after that, AMC has brought big changes to automobile industry in U.S. as well as the world.
AMC Logo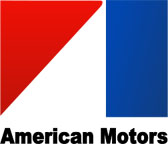 By late 1950s, AMC introduced several AMC cars and it gained some reputation at that time due to Hudson's previous image and reputation in automobile industry. A famous luxury AMC car during that time was the AMC Ambassador.
From 1960s to 1970s, we saw the birth of several cars. AMC introduced AMC Javelin, AMC Matador, AMC Pacer, and some other cars that make the brand go through the history until 1988, the company defunct. Chrysler purchased AMC and created another brand call "Eagle" as the successor of AMC.
AMC Significant Models
AMC Gremlin (1970-1978) –

AMC Gremlin used to be American's best selling passenger cars in 1970s.

AMC Pacer (1975 – 1980) –

A very useful 2-foor car during 1970s to 1980s. Available as 2-door hatchback and 2-door station wagon.

AMC Javelin (1968 – 1974) –

One of the most wanted American muscle cars.

AMC Machine (1970) –

The legendary "The Rebel Machine". It is also one of the most famous AMC cars.

AMC Matador (1971 – 1978) –

Available in 2-door hardtop, 2-door coupe, 4-door sedan, and 4-door station wagon.

AMC Marlin/Rambler Marlin (1965 – 1967)

– One of the biggest competitors to Dodge Charger during that time.
Other than some of the significant AMC models listed above, there are also some other cars and station wagon that make the brand famous from 1950s to 1980s include AMC Hornet, AMC Rebel, AMC Concord, AMC Eagle, AMC AMX and among others.
Over the time, AMC have moved on to Eagle, and become today's Chrysler. Sometimes, we can still find AMC cars style, design, and even their smells from Chrysler cars.
advertisements

If you love this article, please PLUS it!