6 Notable Ferrari Models
advertisements

Here we sort out six notable Ferrari models that will make your saliva flow out from your mouth by just look at these cars. These Ferrari models were into production when internet hasn't become common. Thus, the Ferrari wallpaper is actually a wallpaper or poster that hangs on the wall in the house. Not wallpaper in the internet. Well, for some people who love cars, these car models may imprint in their brand when they look at the poster hanging on the wall when they are young although they may not even know what car is that. Once they grew up, they will only know what exactly the car is.
1. Ferrari F355

From 1994 to 1999, the Ferrari F355 hit the world and it was one of the best sports cars during mid '90s. From Ferrari F355 Berlinetta to F355 Spider to F355 GTS to F355 Challenge, the F355 never need more than 5 seconds to run from 0 to 100 km/h.
2. Ferrari Enzo

Ferrai Enzo or sometimes known as Enzo Ferrari is named after Ferrari's founder, Enzo Ferrari. The name itself already told this is going to be the car, one car that will represent the founder of Ferrari. There are few things to make a car special which are:
Limited production: Ferrari Enzo has only 400 units across the world, no one would able to get the 401th Ferrari Enzo.
Technology: Ferrari Enzo uses many technologies from Formula One.
Speed: Guess what, from 0 to 100km/h, it took only 3.4 seconds. Until today, it is still one of the top 10 world's fastest car.
Exotic Look: Look at it and you won't forget it.
3. Ferrari 348

It is the father of Ferrari F355 but it takes not more than 5.1s to accelerate from 0 to 100 km/h and 11.5s from 0 to 161 km/h.
4. Ferrari 599 GTB Fiorano

The Ferrari 599 GTB Fiorano is another great grand tourer from the Italian car maker. It is without any doubt a polite but powerful exotic car for exotic collectors who love cars without too much of fancy look. The 599 also means that the total engine displacement for this car is 5999 cc, which is roughly equal to 3 2000 cc Honda Accord.
5. Ferrari F50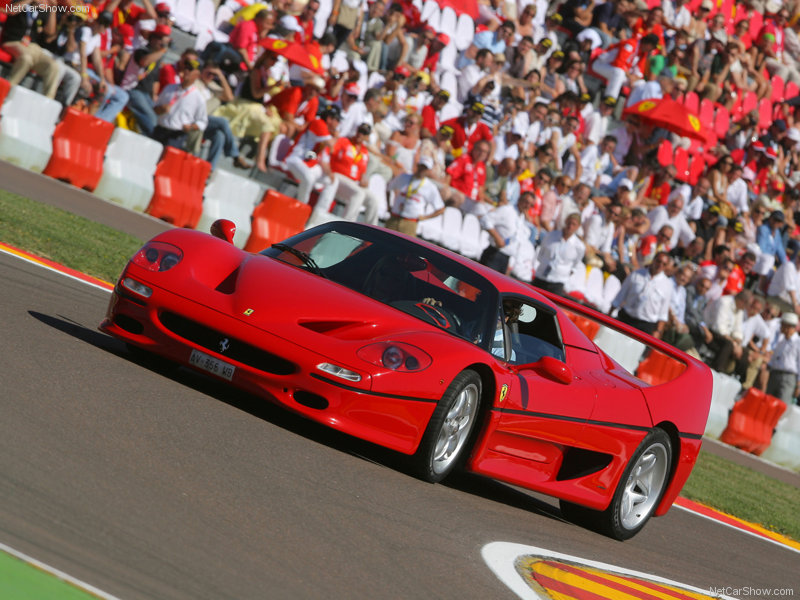 If the Ferrari 599 is an exotic car, the Ferrari F50 will be a super exotic car. The F50 is to celebrate Ferrari's 50th anniversary. It takes 3.7 sec from 0 to 100 km/h and it beats many other cars in the same range.
6. Ferrari 458 Italia

The Ferrari 458 Italia takes a good appearance in the famous movie "Transformer 3 Dark of the Moon". Both Transformer's girl Megan Fox and Rosie Huntington-Whiteley are hot in the movie, and the 458 Italia is as sexy as Rosie Huntington with curve and shape.
advertisements

If you love this article, please PLUS it!