1989 Mini Thirty (Mini 30)
advertisements

In 1989, Rover launched another limited edition Mini to celebrate the 30th Anniversary of this little car on earth, the fabulously opulent Mini Thirty. The production of the Mini Thirty is limited to 3,000 units and only available in the United Kingdom. 2,000 units were made in Pearlescent Cherry Red (COG-BLVC843) and 1,000 in Black (PMA-BLVC90). Most of them were made in manual transmission and only 200 units were made in automatic transmission.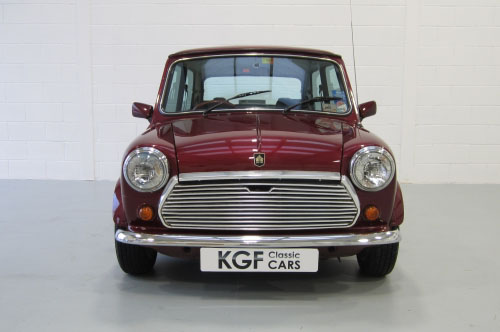 For those who are planning to buy an original Mini Thirty or preparing to restore one back to original, there are more than ten special things you need to look for. The original Mini Thirty features:
Mini 30 crest bonnet badge
Twin red/black (For Cherry Red) or yellow/red (for Black) coachlines along the length of the car
Standard 12" x 5J Minilite-style wheels
Security coded electronic three band stereo radio/cassette player
Servo assisted front disc brake and rear drum brakes
Wheel arches, sills, boot lid, and side mirrors are painted with body color.
Red leather-trimmed steering wheel bearing the special 'Thirty' crest on the center
Black leather seats with red lining and Mini 30 crest with 1959 to 1989 sewn into front seats
Mini Thirty decals with the word 1959-1989 at both rear flank of the car
A Thirty decal at the boot
Mini triple pack binnacle (Speedometer, rev counter, and water temperature gauge)
Chrome bumpers and grille
The Mini Thirty is powered by a 998cc four-cylinder OHV engine that generates 41Ps at 5250 rpm and a maximum torque of 68 at 2500 rpm. It takes 17.9 seconds from 0 to 60 mph and has a top speed of 80 mph. This small car is capable of carrying a maximum of 40kg (90lb) or load on top of it using a roof rack. The original price for this car was £5,599.

Interior of a Mini Thirty
The Mini Thirty. Never before has one so little offered you so much.
Click on the image to enlarge it. Image from KGF Classic Cars.
advertisements

If you love this article, please PLUS it!